01.02.08
home | metro silicon valley index | the arts | books | review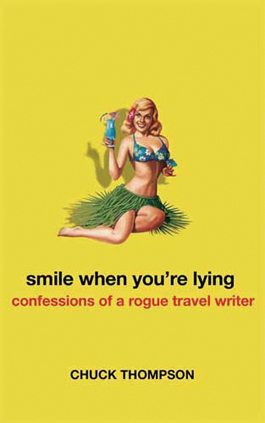 Smile When You're Lying:
Confessions of a Rogue Travel Writer
Review by Richard von Busack
For a lad-mag editor, sports fan and denizen of libertarianism-crazed Alaska (a viable political theory, as long as there are a few new Alaskas lying around that we haven't discovered yet), Chuck Thompson is a complex fellow. What do you know? Travel broadened somebody for a change. (The preceding ad hominem put-down is payback for Thompson's characterization of all San Franciscans as crazy. First rule of travel writing: avoid the ad hominem.) This entertaining critique of travel writing includes Thompson's story of helming Travelocity magazine. Like most of his zillion competitors in the trade, Thompson's juiciest writing is about hellholes full of everything from Brazilian army ants to machete-wielding male Mindanaoites. He rerates the overrated, describing New Zealand as a varsity league version of the Pacific Northwest. And he writes with monkeyish pleasure of the busiest days in Olongapo, the zona rosa for the U.S. Navy port of Subic Bay in the Philippines, as well as with genuine disgust of the desperate, resortified Caribbean. Thompson ignores Lonely Planet's Eeyorelike warnings. Happily, he puts the onus of the squalor on international spoilers rather than on the wretched of the Earth. Who knows if he's right that the great age of jet travel may be finite? We might as well enjoy it, since Thompson assures us that the rest of the world can deal with Americans. If anything, we may be too cringingly sensitive: "Today's inbred terror of criticism based on cultural difference hamstrings all but the most fearless or pompous of modern American travelers," Perhaps the moral is that a bad vacation is made by what you bring with you: expectations, a sense of privilege, panic. (By Chuck Thompson; Holt Paperbacks; 324 pages; $15 paper.)
Send a letter to the editor about this story.