ISSUEDATE
home | metro silicon valley index | music & nightlife | band review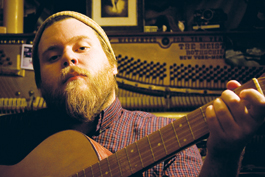 Photograph by Cathy Bauer
Grizzly Man: Benjamin Henderson prepares for the release of his first solo CD, 'Dirty Birdies.'
The Good Hustler
Benjamin Henderson's mood swings
By Mike Connor
DEPENDING ON where you encounter him, it may be hard to know what to make of 25-year-old Benjamin Henderson. In the middle of a workday, he's a subdued and polite graphic designer —bearish in a Paddington sort of way. As the frontman of the now defunct prog-rock band Delta Activity, he's a serious, albeit passion-crazed rock star. But it's especially difficult to put a finger on him when you're a sober teenager spending your Saturday night at San Jose Skate, encountering Henderson as the singer and guitarist of the Good Hustle, an eccentric and uninhibited rock and funk band performing with surprising gusto in a corner of the roller rink.
"Our style was just kind of different than that scene," understates Henderson. "There were a lot of kids sitting and staring."
Granted, it was a very particular scenario, but the generic version —an eccentric band playing for a bunch of shy teenagers in an unlikely venue —is one that Henderson has encountered often while playing in San Jose bands, and he just rolls with it. No bitching or complaining about the local scene. He points out that Delta Activity amassed a solid following and had a successful run even after the Cactus Club and the Usual went away. How? By relentlessly fliering, promoting and not being afraid to rock teen centers and coffeehouses from Campbell to Santa Clara.
When Delta Activity broke up, the work ethic lived on in the name of Henderson's next (and current) band, the Good Hustle. Treading a fine line between sincerity and satire, the Good Hustle makes it hard to tell which is which, a trait they share with the unfathomable rock band Ween. Both bands simply love to experiment, and they also have a sense of humor, but they're dead serious about the quality of their music. The result is post-ironic rock for the drunk and stoned set, but the Good Hustle takes it one step further by rallying around funk, soul, tribal and gospel rhythms.
Their debut CD, What's All the HUS About?, is soaked in rhythm, beginning with what sounds like a particularly funky drum circle at Burning Man on "Tsa!" and ending with the haunting and irreverent "Pro Choice," a droning spiritual chant about an accidental pregnancy with a telling kicker in the chorus: "Got no other choice but a pro choice." "Legs and Wings" sounds like Will Oldham on ecstasy, but I think "Dance Like You Mean It" gives the best glimpse of this band's potential. It turns dancing/not dancing into a life-or-death choice ("Dance like you mean it, my friend/ Nobody knows when our time ends"), but it also makes the former choice irresistible thanks to the song's swinging blues shuffle, growling vocal harmonies and double Dutch breakdown.
Hen Solo
But after years of playing well with others, Henderson is releasing a solo CD, Dirty Birdies, the title of which comes from an ex-girlfriend's dream about an album full of songs she'd never heard. It's only four songs long but manages admirable variety, with telltale beatbox rhythm on "Off the Tracks," psychedelic organ riffs on David Byrne's "Glass, Concrete and Stone" and Oasis-like pop simplicity on "All in Your Name." But those songs all revolve around the gravity of the third track, "Summer Beast," which Henderson wrote years ago in response to a series of unfortunate events —his brother shipping off to Iraq, his band breaking up, the end of his first serious relationship. It's a desolate ballad that finds its way to an optimistic conclusion —a journey made believable by Henderson's vocal performance, which, much like in Ben Harper's best ballads, thrashes around through gravelly howls and falsetto keening, but stays stitched to a loose blues structure.
His upcoming show at Anno Domini is a CD-release party for Dirty Birdies. While the CD is a solo effort, the show is a collaborative one —Dan McKee (from the Good Hustle) and Noah Luna will be helping out with harmonies, organ and guitar.
BENJAMIN HENDERSON performs on Friday (Dec. 4) at 10pm at Anno Domini, 366 S. First St., San Jose. Admission is free. (408.271.5151)
Send a letter to the editor about this story.