01.02.08
home | metro silicon valley index | the arts | stage | review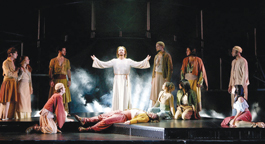 Photograph by Joan Marcus
HIGH DRAMA: Ted Neeley stands out in 'Jesus Christ Superstar.'
JC Revisited
Original star Ted Neeley brought renewed passion to American Musical Theatre's 'Jesus Christ Superstar'
By Marianne Messina
TED NEELEY may be a 64-year-old man, but he carried off Jesus Christ Superstar (which just finished a brief run at American Musical Theatre of San Jose) in a triumph of the soul. Those high, agonized "Gethsemane" vocals wailed, cracked and soared, and Neeley took advantage of his slightly huskier voice to curl out some foreboding low notes. It being well over 30 years since Neeley appeared in the Norman Jewison movie version (1973) of this Tim Rice/Andrew Lloyd Webber take on the New Testament story, there's delicious irony in the words, "After all I've tried for three years, seems like 30." And Neeley seems to play with the irony, ostensibly suggesting personal overtones —"I'm not as sure as when we started."
In scenes like this one and the "Last Supper," Jesus carries on a conversation with a white light in the sky, often to the exclusion of the men around him, a sort of mad seer thread a la The Last Temptation of Christ. It seems the passage of time only gave Neeley's pauses, whispers, touches (oh, this is a feely Jesus) the air of a man deep in understanding, who approaches those ethereal high notes with both a respectful caution and a ruthless precision. Hollers and other sounds from the audience suggested appreciation (and, well, amazement) at his vocal prowess. Besides sublime vocals, Neeley's superstar was not so much meditative as sedate, not sanctimonious or all-knowing as much as conscious, as if everything around him were bursting with meanings.
But apart from Neeley, this production was overrun with sublimes, from the vocals of former Living Colour vocalist Corey Glover (a moping, shuffling Judas) to the orchestra's miraculous keyboards and an ecstatic drummer. The music captured Webber's expressive orchestration down to the fine details, the odd harp, flute, acoustic guitar, wind chimes. Craig Sculli as a sympathetic Pontius Pilate, Darrel R. Whitney's rumbling Caiaphas and Tiffini Dodson's warm Mary Magdalene are all delivered on strong vocals.
When the show veered from the originals in a big way, it was to impart some insight. For example, when Pilate questions Jesus, there's an abrupt interruption of his jabbing song that locks Pilate and Jesus in a mute dialogue of stares. The distance of the observers at the crucifixion emphasizes the aloneness of the moment and Neeley conveys a bloodless agony on jagged inhalations, as if the body struggles to grasp the breath of life long after the man gives it up.
The possible exception to this production's sapient innovation is the Buena Vista Social Club rendition of Herod's song, "So You are the Christ." Its Latin beat drags some of the levity down, but the gabby chorus girls and Aaron Fuksa's Don King scare-hair, as Herod, are pretty irresistible. Lighting designer Rick Belzer often painted like a Grand Master around the Christ, for example casting him in oblique spots so he emerged from the others like some ambiguous Caravaggio hero. At times, Neeley appears struck by lightning or by words, as in the fascinating leper's lament "See My Hands." The music, singing and action in this show are so gripping that scenery (a catwalk across a multileveled stage) becomes irrelevant, and new sets and characters can emerge suddenly from behind the action and still come as a surprise. This mature production surpasses the general run of remakes and rather than redoing Rice/Webber's complex statement, ripens it.
Send a letter to the editor about this story.