01.02.08
home | metro silicon valley index | columns | silicon veggie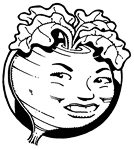 Silicon Veggie
Merit Badge
By Elisa Camahort
AFTER being encouraged by readers and friends to try the new restaurant Merit Vegetarian in Sunnyvale, I made up for lost time by visiting Merit three times in 10 days this month —twice for lunch and once for dinner.
Merit is an Asian veg restaurant along the lines of Garden Fresh in Mountain View or Happy Bamboo in San Jose, in that it features dishes made with various meat analogs, but it does try to set itself apart and raise the game a notch.
The first thing you'll notice is the nicer ambience, including banquettes, a color scheme and artwork- —not your Formica table and paper napkin setting. The strip mall locale notwithstanding, Merit achieves a nicer atmosphere than other restaurants in this category.
But let's get to the food, right? Merit shines in the Appetizers section of the menu. Over the course of my visits I tried the "drumsticks" (made from soy "chicken") ($6), the Pot Stickers ($6) and the Fried Wontons, filled with tofu and mushrooms ($4.50), each of which were wonderful. The drumsticks were crispy on the outside and provided a substantial, dare I say "meaty," mouthful of meat analog on the inside that was good enough to fool this vegan. At each visit I was accompanied by omnivores, and their reactions definitely varied, but I was in heaven. The Pot Stickers, however, were a big hit with everyone —and no meat-filled dumpling would have anything on these fresh alternatives.
When Merit tells you what their "specialties" are, you're probably pretty safe trying them. The best two entrees I had were the first two in the Specialties section of the menu: the Vietnamese Crepe ($8.50) and the Sauteed Garlic Beef ($10.50). The former is a mu shu vegetable-filled omelettelike creation than you will marvel at, considering there's no egg whatsoever used in creating the golden pancake on your plate. This was by far the biggest hit for my S.O., who doesn't have the fondness for fake meat dishes that I have. I preferred the Garlic Beef —it was spicy and chewy, if perhaps a tad oily. The only dish that didn't make the grade for me is one of my control dishes at restaurants like these: the Sweet and Sour Nuggets.
This is the dish I order every time I go to Garden Fresh, and I've never found another restaurant to match them. Merit is no exception, as each nugget was about 90 percent dough.
Merit Vegetarian is a welcome addition to the local vegetarian restaurant scene, and if the lively Friday night crowd was any indication, I'm not the only one welcoming them.

Merit Vegetarian
548 Lawrence Expwy., Sunnyvale
408.245.8988
www.meritvegetarian.com
Send a letter to the editor about this story.