January 3-9, 2007
home | metro silicon valley index | the arts | stage | preview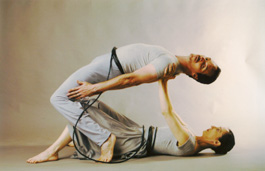 Pliable: Michael Howerton and Annette Williams bend and flex in 'The Tie That Binds.'
Moving and Changing
The Margaret Wingrove Dance Company celebrates 25 years with program of favorites and a premiere
By Marianne Messina
WITH "The Changing Colors of Passion," the Margaret Wingrove Dance Company celebrates its 25th anniversary. "It's a great milestone for the company and a huge achievement for Margaret," says Michael Howerton, one of the company's signature dancers. The program may also be the last time we see Howerton taking a prominent role onstage.
After straining his back last season the night before the opening performance, which sent the company scrambling for a replacement (Howerton had never worked with understudies), Howerton decided it was about time to hang up his dance shoes: "That was just hard. I don't want to do that to Margaret, and I don't want to do that to the other dancers." This time, Howerton has understudies for three out of his four dances in the upcoming eight-piece program.
For a perfectionist trained to take risks, that's a tall admission. Back problems aside, Howerton's flexibility continues to surprise his fellow dancers. During rehearsal, he drops backward, touching the ground from a back bend, and then starts doing a crab walk. "Do you really want to do this, Mike?" asks Annette Williams, his dance partner in The Tie That Binds. He assures her that the move is easy.
Williams and Howerton have been friends since grade school, and their rapport allows them to spin an improvisational aura around their moves together. In The Tie That Binds, the two are tethered to each other by a length of rope. At rehearsal, Wingrove watches them pull, entangle, manipulate and release each other to the clattering, percussive angst of John Cage, and she says, "It was real interesting to see what kind of movements they could do and not do."
For example, the rope might get fouled up. Howerton recalls a performance in which the rope got caught around his neck. In the part where Williams pulls on the rope, it became like a noose, and Howerton was literally dancing for his life as he struggled not to be strangled—but he liked how it looked in the replay.
"The piece was set on us," Williams explains, and in their confused tumble of bodies, their out-of-control hugs, her upside-down body clutching his waist, his precarious balance with the crook of his foot wrapped around her neck, it's obvious that their chemistry is rooted in trust. "He has to trust I'm going to catch him in that back-bend thing." Counting this piece among his favorites, Howerton adds, "Annette dances with a lot of abandon, so I never really know what I'm going to get." For Howerton, who has spent almost 20 of his 45 years with the Wingrove Company, the program offers an ideal swan song.
He gets to act "you know, male chauvinist" in Facade. Starting with Victorian-style snapshots in all their posed reserve, two women and a man (Williams and Howerton with Ballet San Jose's Catherine Grow) show their emotional true colors in fits and bursts.
"I'll be going from Facade to a solo," Howerton explains as he considers the program. "It's a completely different feeling. It's about loss. ... I'm going to have to really shift gears."
The program finishes with the flowing ensemble piece Rivers. Quite apropos for Howerton's personal finale, it punctuates his sense that he has gained fluidity over his years with Wingrove. Overall, he believes that accepting his limitations will free him to approach dance in a new way, but he wanted to be part of the 25-year retrospective before retiring. The program includes pieces from the MWDC repertoire, such as Zelda (1994) and the Rodin-inspired The Kiss (2005), yet Wingrove doesn't miss a beat in introducing a new piece, The Pulse of Love. With Wingrove's ever-changing output as his guide, Howerton can't help but find new ways to delight dance fans.
The Changing Colors of Passion takes place Thursday and Sunday at 7:30pm and Friday-Saturday at 8pm at the Stage, 590 S. First St., San Jose. Tickets are $25-$30. (408.283.7142)
Send a letter to the editor about this story.