January 3-9, 2007
home | metro silicon valley index | music & nightlife | preview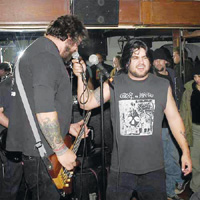 BUUUURP! Strange but true fact: Bassists always win belching contests.
Musicbox
Whiskey Sunday
WHEN you come across some little sonic flotsam from these San Jo punks, it immediately rips you back to when you gloriously hoarded your milk money, wasted it on a 7-inch single and played it until the damn thing warped—that's Whiskey Sunday in a nutshell. Their sound harkens to a lost era of punk rock, where there were melodies discernible through the loud and fast noise pollution that made you first want to don 17-eye Docs and a ripped jean vest and run around your room until you bashed into the walls. Whiskey Sunday hits tight with '80s-style hardcore riffs from a double guitar attack, solid work on the beats and vocals that make you want to wipe a smirk off someone's face with your fist. (Ryan Osterbeck)
Whiskey Sunday, She He He's, Vena Cava and In the Red play on Friday (Jan. 5) at 9pm at Johnny V's, 31 E. Santa Clara St., San Jose. Tickets are $5. (408.947.8470)
Mark Erelli
IN 2004 Erelli recorded the Western swing Hillbilly Pilgrim while teaching himself to play mandolin and steel guitar. All along he'd been toying with ideas for an album addressing American life post 9/11. His new release Hope & Other Casualties is a moving collection of songs dealing with love, friendship, poverty and war. The personal and political co-exist in his splendid songs as he sings on "The Only Way" from the new CD, "I'm too young to be so cynical, too old to be naive." Performing with Erelli are Lisa, George and Marty of the Atkinson/Kincheloe Band. They've been friends for over 30 years and the connection comes across in every song. Touring with a new CD, Simple As That, the band performs original songs in a classic folk style. (Meribeth Malone)
Mark Erelli performs on Wednesday (Jan. 10) at 8pm at Don Quixote's, 6275 Highway 9, Felton. Tickets are $8-$10. (831.603.2294)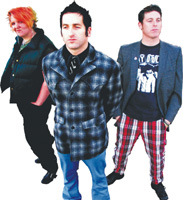 Skank or die: If Shane McGowan could sober up for a minute, he might learn a new trick or two from these young Eastern blockheads.
Warsaw Poland Brothers
COMPLETELY unscientific yet plausible prediction for the new year: '07 will be the year of the nth wave ska revival. It's been brewing up for a few years now, and it feels like it's just becoming acceptable to don the two-tone again and skank the night away. Case in point: the growing popularity of the Warsaw Poland Brothers, a Tuscon, Ariz., three-piece who have hit on the brilliant idea to meld punk-ska to the carousing, anthemic Irish-drinking-song punk that the Pogues and recently Flogging Molly traffic in. It's a potent mix, and anyone who makes it through this show without getting on the dance floor may need to give the Sufjan Stevens records a rest. Don't fear the geriatric golfer pants and the ill-fitting suit jackets, with their unique take on ska and the classic punk tropes, Warsaw Poland Brothers make a compelling case for another two-tone revival. (Paul Davis)
Warsaw Poland Brothers play on Wednesday (Jan. 10) at 9pm at Moe's Alley, 1535 Commercial Way, Santa Cruz. Tickets are $5-$7.
Send a letter to the editor about this story.