January 3-9, 2007
home | metro silicon valley index | the arts | books | review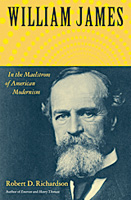 William James: In the Maelstrom of American Modernism
(By Robert D. Richardson; Houghton Mifflin; 622 pages; $30 cloth)

A recent story out of Stanford indicated that practice doesn't necessarily make perfect, since "the nervous system was not designed to do the same thing over and over again." The news would have pleased the American philosopher William James (1842-1910), who coined the phrase "stream of consciousness" and believed that process was more important than product, especially if the product was some absolute truth or Platonic ideal. Nowadays, William James' younger brother, novelist Henry James, looks like the superior sibling. But at the turn of the last century, William James' breakthroughs—grounding psychology in physiology, exploring individual religious experience as opposed to transmitted dogmas and promoting the results-oriented philosophy known as pragmatism—made him America's pre-eminent intellectual. Robert D. Richardson (who has also written about Thoreau and Emerson) tracks a life devoted to real-world experiences, no matter how messy; James was, Richardson writes, "as jumpy as a man with St. Vitus dance." While brother Henry enjoyed early successes, William underwent a complete collapse, "a terrible moment of unstringing fear" of his own existence. After his recovery, James settled into marriage and a teaching career at Harvard, but his breakdown served a useful purpose: "It made me," James wrote, "sympathetic with the morbid feelings of others ever since." Indeed, James was surprisingly open to the outré, attending séances, studying spirit mediums and dabbling with alternative healing methods. James comes across as infuriatingly flighty and emotionally careless (particularly to his wife) but always fascinating in his embrace of life and thought as inseparable. His energy and enthusiasm made him an influential teacher, a popular lecturer, a prescient opponent of American imperialism in South America, a powerful prose stylist and even an astute, if crabby, critic of Henry's fiction—"You've reversed every traditional canon of story-telling (especially the fundamental one of telling the story, which you carefully avoid)," he snipped after reading Wings of the Dove. Pragmatism seems to have its most lasting influence not in academia but in self-help movements: as Richardson writes, "Resiliency, the ability, even when down—especially when down—to regroup and move forward, is the central fact of the inner life of William James." Richardson's biography does a great service in illuminating this remarkable life, although he does falter in some of the thornier patches—he can't, for instance, make decent sense of "radical empiricism," a theory that even James admitted was "highly technical, polemical, abstract and unnatural."
Review by Michael S. Gant
Send a letter to the editor about this story.