January 4-10, 2006
home | metro silicon valley index | columns | silicon alleys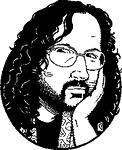 Silicon Alleys
Bravo, Taco Bravo
By Gary Singh
When Katie Bloom's in downtown San Jose finally succumbed to the war on nightlife, Metro exposed the farmer's-town machinations of the Downtown Nightlife Prevention Bureau. But now it looks as if the war on nightlife has shifted to the suburbs, as some pretty shady maneuverings nearly took place over in Campbell. This time, however, nightlife won.
Here's what happened: Twenty puritanical knuckleheads were trying to prevent the legendary late-night eatery Taco Bravo from staying open until 3am. They wanted Campbell's longtime cultural icon to shut its doors at 11pm instead. Blasphemy, I say! The issue came before the City of Campbell Planning Commission on Dec. 13, but the petitioners were not successful.
You see, folks have chowed down on post-midnight grub at Taco Bravo for 30 years now. People come from all over the valley—as far away as Los Gatos—for those late-night come-down-off-the-booze feasts. If any musician or band comes to town, where do you think they go to scarf after the show's over? Taco Bravo. A lot of non-Campbell residents would never even think of visiting that city if it weren't for Taco Bravo. Forcing the place to close at 11pm would destroy the business completely. Everyone knows that. As local celebrity Lex van den Berghe told the Campbell Reporter, asking Taco Bravo to close at 11 would be like asking a donut shop to open only after lunch. He also said that when it comes to landmarks in Campbell, more people know Taco Bravo than the water tower or the Ainsley House. He's right. Everybody has a Taco Bravo story of some sort. Don't even get me started ...
In any event, Taco Bravo is one of the most famous bastions of late-night revelry in all of the South Bay. Even in the thriving world-class metropolis of downtown San Jose, you don't find late-night attractions like Taco Bravo. In fact, since downtown San Jose doesn't have many late-night places, some folks take their business to Campbell instead. One Campbell club owner was recently reported as saying something like, "I hope they keep screwing up downtown San Jose. It just brings more business over here."
The '30s-era gospel tent crusade against Bravo's closing time began over two years ago. "In April of 2003, there was one neighbor back there who complained," said proprietor Dennis Wuollet. "Some police chased one guy from down here—I don't know whether it was from Der Weinerschnitzel or Taco Bravo or anywhere, but they chased him about a block down the street and handcuffed him. So the neighbor got a petition going and stated that he wanted Taco Bravo to close and that no legitimate business should be open after 11. I don't know where he was coming from, but he got 20 people to sign it."
It just makes you wonder what planet such people live on. I guess they just have a little too much time on their hands. I don't know the exact history, but Taco Bravo is pretty much the place that originally spearheaded late-night usage in the entire city of Campbell.
"When I was younger and I first took the place over, we used to go and put fliers on all the cars at the bars and the factory and the Pruneyard, all over, just trying to get a bar rush, because this store was pretty slow," Wuollet said. "And we succeeded. We got some really late-night business and we've been staying open till 3 ever since."
And of course, not one person who signed the petition actually showed up at the Planning Commission meeting.
"I guess it's easy to sign something but then when you have to put your face in front of it, they don't want to do it," Wuollet said.
Instead, Taco Bravo supporters jammed Campbell's City Hall for the meeting on Dec. 13. "We packed the place," Wuollet recalled. "One of the councilmen said, 'This has gotta be a record. I've never seen this many people in this place before.' ... I was amazed at the amount of people that came to support this restaurant. It brought tears to my eyes. I got a little glisteny there. It was just awesome."
Taco Bravo is now on a six-month conditional use permit and it is allowed to stay open until 3am. I applaud all those who showed up to the Planning Commission meeting on Taco Bravo's behalf. Wiser heads apparently prevailed. In the constant war on nightlife, this was one battle that just had to be won. Long live Taco Bravo!
Send a letter to the editor about this story.