January 4-10, 2006
home | metro silicon valley index | silicon valley restaurants | review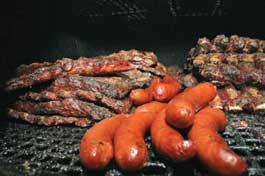 Photograph by Felipe Buitrago
The Links You've Been Missing: Morgan Hill's Trail Dust is a gold mine for barbecue lovers.
Eat My Dust
Some of the best barbecue in the South Bay is hiding down in Morgan Hill
By Stett Holbrook
BACK WHEN he was in high school, Franz Ingram applied for a job as pit master at Morgan Hill's Trail Dust BBQ Joint, a restaurant he considered the best in town. He didn't get the job. After graduating from high school and spending a few years in the Army, he applied again. This time he got hired.
"I think I matured a little bit after the Army," he says.
Barbecuing is no burger-flipping job. Done right, manning the smoker is serious, labor-intensive work.
"I learned the ins and outs of barbecue," he says.
After working at Trail Dust for about a year, Ingram left to take a job in construction, but he kept in touch with the owners. When they decided to retire and move back to Oklahoma, he came back—but this time as an owner. Together with his father, Larry Ingram, and brother, Eric Ingram, Franz became a professional barbecuer once again, and kept the fires smoking at what he still believes is Morgan Hill's best restaurant.
It's certainly true that Trail Dust serves some of the best barbecue you'll find in the South Bay, and the place has great local appeal. A cowbell hanging from the front door announces each wave of customers as they herd into the restaurant. Friendly servers greet you as soon as you walk in. Inside, the walls are covered with all kinds of Western ephemera: a painting of a Giant-era James Dean, a cowhide rug, old license plates, smart-alecky quips of folk wisdom. Outside the bathroom, a glassy-eyed buck trophy hangs on the wall near crayon-rendered tributes to the restaurant drawn by children.
Trail Dust is best known for its pork ribs, and rightly so. They're meaty and tender and have a half-inch smoke ring, evidence of the slabs' time in the restaurant's big, barrel-style smoker out back. The ribs are described as St. Louis-style, a term that characterizes the particular cut of meat. The ribs themselves are simply rubbed with an herb-and-salt mixture and smoked over oak for about four to five hours. When they sell out, and they often do, that's it. They're not making any more.
The rib dinner ($16.45) comes with a heap of beautifully glazed meat that's been finished with a barely sweet sauce that lets the smoke flavor come through. You get a choice of two sides. Make sure you get the ranch beans. They're cooked in a deep, reddish-brown liquid that had me lapping up the last drops. The coleslaw is good, too. It's tangy and easy on the mayo.
Tri-tip is the other specialty of the house. Served barely pink inside and with a crusty, caramelized char outside, the big slices of meat are juicy and redolent of their hours on the grill.
For me, barbecued chicken doesn't generally compare to beef and pork because it can get so dry, but somehow Ingram smokes his for as long as six hours and it still comes out moist and flavorful.
For a taste of all three meats, go for the three-meat combo ($27.95), made up of impressively smoked meat, some of which you're sure to take home with you.
At lunch, Trail Dust serves a number of excellent sandwiches served on a great buttered and toasted Pugliese roll. The tri-tip sandwich ($7.95) is nothing but thin slices of meat between two pieces of bread. It's a great showcase of the flavorful meat, but I would have preferred a few additions in the form of lettuce, onion and tomato. If I had a second stomach, I would have ordered the pulled-pork sandwich ($7.95) or the rib sandwich ($8.95). Next time.
Barbecue isn't complete without a cold beer or two, and Trail Dust has a great list of bottled and tap beers from several top California microbreweries such as Eureka's Lost Coast Brewery, Fort Bragg's North Coast Brewing Co. and Morgan Hill's own El Toro Brewing Co. El Toro's golden ale is particularly good. Trail Dust also has a small but well-chosen wine list.
Mercifully, there's only one dessert choice. The berry and apple cobbler ($6.95) arrives in a soufflé dish that's almost as big as a dog bowl. It's best shared between two or even three people. The crisp, cookielike crust is topped with two scoops of vanilla ice cream. Mix it all up and it's a sweet, soupy, creamy fruity mess, a belt-loosening end to a meal at one of the best restaurants in town.
---
Trail Dust BBQ Joint
Address: 17249 Monterey Rd., Morgan Hill.
Phone: 408.776.9072.
Hours: 11:30am-2pm Mon-Fri; dinner 5pm-9pm Mon-Fri, 4pm-9pm Sat and 4pm-8pm Sun.
Price Range: $16-$28.