January 4-10, 2006
home | metro silicon valley index | movies | current reviews | film review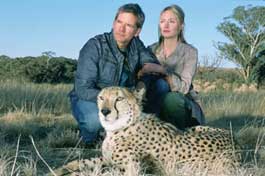 Photograph by David Bloomer
My Cheetah Heart: Campbell Scott and Hope Davis pose with cat star Duma.
Cat Power
The superbly made animal adventure film 'Duma' beguiles adults and children
By Richard von Busack
ALL CHEETAHS have natural star qualities, but Carroll Ballard's Duma consists of more than just beauty shots of the wickedly fast cats. The film tells a simple story. An orphaned cheetah cub is found at night on an African highway. Xan (the assured young actor Alex Michaletos), the little boy who finds him, nurses him to adulthood. In turn, the animal protects him and solaces Xan during the loss of his father, Peter (Campbell Scott). The time comes to take Duma, which means "Cheetah" in Swahili, out to a better habitat. Xan and his four-legged friend run away from home and mother (Hope Davis, excellent, but when is she not?). They cross desert and wilderness, avoiding crocodiles and tsetse flies.
On his travels, Xan meets Ripkuna, an ex-convict clad in the rags of a soldier's uniform. Eamonn Walker plays Ripkuna. Love or hate Lord of War, Walker is the best thing about it; he brings similar intelligence and dispossessed anger to this role. While there isn't anything showily theatrical, posed or accented about Walker, his performance reminded me of first reading Treasure Island. Like Long John Silver, Ripkuna is a deeply charismatic figure, and yet one is never sure of whether he means harm or not.
Duma is a loose adaptation of Xan and Carol Hopcraft's children's picture-book memoir How It Was With Dooms—so loose, in fact, that it could be retitled How It Wasn't With Dooms. Still, Ballard, best known for The Black Stallion, once again shows his sure eye, his gift for understatement, his humor and his admirable refusal to ram home the big emotions. Duma is as fresh as the deft, succinctly funny sequence where the cheetah shows how he can't make himself at home; he nips a TV remote control, turning on the television to cartoons on full blast. Startled, the big cat leaps onto a dining room table to meet the eyes of a nervous woman, right as Sylvester Pussycat is growling to Tweety Pie, "Hello, breakfast!"
Duma gives us the satisfying sequences we expect, and they're timed to perfection: the cheetah warding off a pack of school bullies; the huge tail twitching significantly from under a pile of bed clothes. What isn't expected is Ballard's refusal to treat Africa like Jungleland. On their journey, the travelers encounter ruins and a mass grave; Xan asks, "Who are they?" and Ripkuna replies, "People. People who never dreamed they would die here."
Seeing Duma feels like watching a classic as it unfolds. The notes from Treasure Island are part of this classicism. So are the glancing references to Huckleberry Finn. What is especially impressive is the way Ballard contrasts life with a wild animal with a child's growth to maturity. The hinge is Xan's reading from Swinburne's "The Garden of Proserpine," that ode to the acceptance of death without the consolation of an afterlife. Xan learns to take his losses without becoming hardened by them; that's what becoming a man is all about. Families are constantly searching for a movie everyone can enjoy, and Duma is just that movie. Ballard should be proud of himself.

Duma (PG; 100 min.), directed by Carroll Ballard, written by Carol Flint, Karen Janszen Karen and Mark St. Germain, based on the book by Xan and Carol Hopcraft, photographed by Werner Maritz and starring Campbell Scott, Alex Michaletos and Hope Davis, opens Friday at selected theaters.
Send a letter to the editor about this story.