January 4-10, 2006
home | metro silicon valley index | music & nightlife | music venue review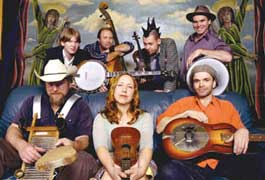 Folk in A: Espresso Garden has been the scene of many folk and bluegrass shows, including the Asylum Street Spankers.
Wave Goodbye
Exit interview: Judy Hackett of Espresso Garden and Café
By Yoshi Kato
SHE WAS about to leave the next day for a road trip to her new home on a converted farm in Wisconsin, but that didn't stop Espresso Garden and Café owner Judy Hackett from throwing one last bash on Dec. 22 by hosting the final weekly South Bay Folks Acoustic Open Mic night of 2005 with husband Gene.
What was technically the last attended event of a business owner was more like a farewell party to a beloved colleague or even family member. Patrons gave her cards and hugs and shared their appreciation for nearly eight years of music, food, beverage and camaraderie. As final announcements were made, a small group in the corner serenaded Hackett with an impromptu a cappella version of Crosby, Stills and Nash's "Suite: Judy Blue Eyes" as she was being thanked. That night was the first time she cried at an Espresso Garden event since she announced last month that she'd be leaving and trying to sell the establishment to new owners with a compatible, if different, business plan and musical aesthetic.
Judy Hackett leaves in a good place. Local and even national and international visibility has been established for the Bascom Avenue institution, and the South Bay acoustic musical scene is strong yet ever-changing. Espresso Garden featured open-mic nights plus local and touring artists. Nickel Creek, which headlined a show at the Warfield in San Francisco last month, played at the 180-capacity Garden several times.
"Musicians are familiar with the venue," she says. "We're solicited bookings on almost a daily basis and have been for quite a while."
In terms of the music that's been presented, it hasn't been strictly folk or singer/songwriter material, as is often the assumption. There's been traditional Irish and Hawaiian music, jazz, Afro-Cuban and more.
"We're not limited to a certain kind of music," she confirms. "The only limitation is the fact that we say 'acoustic.' The only types that don't happen are hard heavy metal and hip-hop, and that's by my design."
After the last two-song performance of Hackett's final open-mic night, participants, and audiences members hung around, as is the customary practice. People go to their cars to get guitars and face off with other musicians or join a circle in song. It's that type of atmosphere that keeps Rick Merritt coming back time after time. A singer/guitarist, the Campbell resident says the company at open-mic nights is as warm as the music.
"It's been a special place for me. I moved from New York three years ago, and someone said I should check out the good music there," he says. "I didn't have many friends out here yet, and it was immediately a very inviting atmosphere." Gene Hackett will run the restaurant and cafe until it's sold or the lease ends in April. Fiddling Cricket, the folk and bluegrass concert promoters, has upcoming shows through March (see fiddlingcricket.com for information).
"There are so many musicians around here—good, good musicians," Hackett says. "Overall, I think it's very healthy. There's more places popping up, small coffee shops trying to emulate what we've done here.
"The Espresso Garden will go on. It's just a question of who will be behind it," she says. "But it will go on."
Send a letter to the editor about this story.