01.07.09
home | metro silicon valley index | the arts | visual arts | review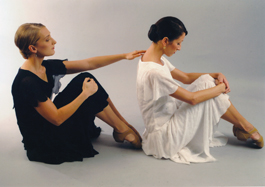 Photograph by Dave Lepori
REACHABLE MOMENT: Shaina Leibson (left) makes tentative contact with Shannon Bynum in 'The Distant Land of My Father.'
Shanghai Gestures
Margaret Wingrove Dance Company adapts a local novel about 1930s China for the stage
By Marianne Messina
THE WILLOWS and the poplars along the back wall swayed like graceful women. I focused on the flower beds and said their names under my breath, names my father had taught me." This story, told by a young girl who dotes on her charismatic father as she grows up in Shanghai, brims with sensual and richly textured imagery in Bo Caldwell's book, The Distant Land of My Father. Caldwell brings 1930s Shanghai directly to the senses: "Chu Shih cleaned my face with a cool, damp linen towel that smelled of lemon and cucumber." In this scene, the family cook Chu Shih is trying to sooth young Anna after she has just watched men beat and kidnap her father right before her eyes. Caldwell infuses her poetic sense of place with thrilling drama—Anna's father is imprisoned first by the occupying Japanese and then by the conquering Communists while Anna and her mother take refuge by relocating to Southern California.
Emotionally, Caldwell's tale revolves around the holes left in young Anna's life by her father's long, unexplained absences. All of the book's charms—the story, the emotion, the language—have inspired choreographer Margaret Wingrove to reconceptualize the story in terms of movement for her latest production.
"Everything is so detailed, I think, in the writing, and picturesque and so full of imagery," Wingrove considers. "And so that is what I'm drawing on ... trying to get that feeling of that texture of it."
After a reading at the Saratoga library, Wingrove approached the Cupertino-based Caldwell. "I went up to her afterward," Wingrove recalls, "and I said, 'Would you be interested in your work being put into dance?'" Caldwell found the idea "exciting," and Wingrove went to work researching the music, costumes and scenery that might bring the story to life. "It's really the largest thing I've tried to tackle," Wingrove says.
Over 12 or 13 dance numbers, the Margaret Wingrove Dance Company's The Distant Land of My Father follows the arc of the book, which bounces back and forth from Anna's life growing up in California to her father's experiences in Shanghai. "There's a sequence of events, and to try and do that in a way that's emotionally charged was a little bit of a challenge," Wingrove admits. Voiceover snippets from Caldwell's book will anchor the audience within the plot. Another part of Wingrove's challenge was to stay true to Caldwell's intent, based on their conversations. "As I was talking to Bo," Wingrove remembers, "I said, 'What is the most important thing that you want people to take away from your book?' and she said, 'I would like them to know that it's never too late to mend relationships; it's never too late for forgiveness.'"
The program begins amid music written for the show by Scotty Arnold, Caldwell's son. Dance numbers will include a love duet, danced to Frank Sinatra's "Moonlight Serenade," between grown-up Anna (Shannon Bynum) and her husband, Jack Bradley (Peter Hershey). That duet will be paralleled by a duet set in Shanghai featuring Jing Zhang as "the other woman" and Le Mai Linh as her lover.
East and West are characterized by very different scenery, music and dance styles. After conferring with traditionally trained Chinese dancers about Chinese dance movement, Wingrove poured through volumes of authentic Chinese music. "I've found, with the music and the movement, that the movement is very intricate and yet powerful," she observes. "For instance, the duet Jing and Le Mai do; he represents the lower class, and she represents the upper class. And the movements would be slightly different; for instance, if she's from the higher class, women walk a little differently or their steps are a little smaller and not so wide."
  In taking on this diverse tapestry, Wingrove says she feels a little like a pioneer in a new territory. "It kind of has a path of its own and I'm listening to almost follow it," she explains. "The whole way that I work, anyway, is very organically.
... I'm going along to see where this is leading."
 THE DISTANT LAND OF MY FATHER, a Wingrove Dance Company production, plays Thursday–Saturday at 8pm and Sunday at 3pm at The Stage, 490 S. First St., San Jose. Tickets are $25–$40. (408.283.7142)
Send a letter to the editor about this story.