01.07.09
home | metro silicon valley index | silicon valley restaurants | review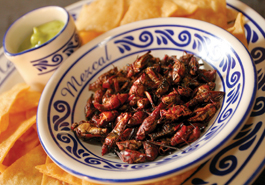 Photograph by Felipe Buitrago
HOP TO IT: Chapulines—grasshoppers—are an  unusual treat at Mezcal.
New South
Mezcal offers a different and distinctive take on Mexican
By Stett Holbrook
LAST YEAR was not great for new restaurants in Silicon Valley, but there were a few standout debuts. Near the top of my list is downtown San Jose's Mezcal.
Mezcal opened in November and specializes in delicious regional cuisine from the southern Mexican state of Oaxaca. People who need to see nachos and sour-cream-topped burritos on the menu to feel like they're at a real Mexican restaurant will probably be miffed at Mezcal, but for those willing to venture beyond the same old Mexican-American standards the restaurant offers an excellent point of departure.
Even from the outside, you can tell the place is different. The brick exterior, metal work and indigenous Mexican motifs set the place apart from its neighbors. Inside, the heavy wooden furniture, Oaxacan art, original brick walls and beautiful bar make Mezcal one of the most distinctive dining rooms in San Jose. In spite of the upscale, urbane design, there's nothing fancy about the menu. This is Oaxacan food as you would find it in Oaxaca. It hasn't been watered down or gringofied.
Mezcal owner Adolfo Gomez was the operations manager at the Silicon Valley Capital Club restaurant for 10 years and has been working on this new restaurant for five years. He's originally from Oaxaca and has Oaxacan cred in spades. He imports moles from Oaxaca made by his aunt. He even brought his mother up from Oaxaca for two years so she can make sure all the food meets her standards. His brother, Octavio Gomez, is the chef.
The menu reads likes a list of Oaxaca's greatest hits. To the extent that people know Oaxacan food, it's probably mole negro, a velvety, bittersweet, chocolate-looking sauce. Mezcal serves offers three kinds of mole—negro, coloradito and estofado. Servers bring a complimentary sampling of the moles with chips at the beginning of the meal. The negro and coloradito are best. The negro is more savory than sweet and has a pleasing hint of bitterness. It's the smoky, smoldering heat and flavor of the poblano chiles that really distinguish the sauce. The red-tinted coloradito is spicier and a delicious balance of sweet and bitter. I found the estofado, made with tomatillos and peanuts, bland and unremarkable.
The list of appetizers is great. The molotes ($8) are particularly good. The cigar-shaped masa cakes are filled with puréed potatoes and a bit of chorizo. In spite of the heavy ingredients the dish is lighter than other versions I've had. The memelitas ($7) are little tostadas made with hand-formed masa topped with pork cracklings, black bean purée and cheese. I could eat these all day long.
Few people probably will try the chapulines ($6), and that's too bad. Yes, they are toasted grasshoppers, but the little protein-rich morsels are tossed with chile powder, lime juice and salt and make for a great cocktail or beer accompaniment. They taste like spicy nuts that happen to look like bugs.
The tlayuda ($12) works as an appetizer or an entree. Made with a thin and crisp corn tortilla that tastes a bit like popcorn, the eat-with-your-hands dish is topped with white Oaxacan cheese, rich black bean purée and a slices of cecina (thinly sliced marinated and grilled pork) or tasajo (thinly sliced and grilled salted beef). The two salsas served alongside are quite good and elevate what would otherwise be a rather bland dish.
Enchiladas ($14) are available with a choice of mole and meat and they arrive in deconstructed form: soft, house-made fried tortillas rolled up and topped with sauce with the meat and dry cheese laid on top just like in Oaxaca. They're good, but a bit spare. I loved the spicy chile rellenos ($14), lightly battered chiles stuffed with a spicy-sweet picadillo, a mix of nuts and fruit and pork or chicken. I went with the pork and loved it.
Entrees are served with an endless supply of soupy black beans and rich steamed rice.
Service is friendly and knowledgeable. A lot of the food here will be new to most diners so the staff takes the time to explain each dish. 
Mezcal is unique in that it showcases its namesake. Mezcal is a country cousin of tequila closely associated with the state of Oaxaca. Tequila is really a variant of mezcal made from blue agave while mezcal can be made from several different kinds of agave and generally has a smokier flavor than tequila. While Gomez hasn't finished putting his list together, he pours a number of small, premium mezcals made by producers who are making mezcal in the finer, barrel-aged style that's come to characterize many top tequilas.
Mezcal also makes great agua frescas ($4)-—fresh fruit drinks-—and offers free refills. 
Desserts like the rice pudding ($7) are OK but not as strong as the rest of the menu.
Mezcal is a great addition to San Jose's downtown dining scene. Here's hoping 2009 turns out better than 2008. If it doesn't, Mezcal makes for a great place to eat and drink and ride out the storm.
---
Mezcal
Address: 25 W. San Fernando St., San Jose
Phone: 408.283.9595
Hours: 11am–11pm Sun–Fri and 5–11pm Sat
Cuisine: Mexican
Price Range: Entrees $8–$14
Send a letter to the editor about this story.