01.07.09
home | metro silicon valley index | movies | current reviews | dvd review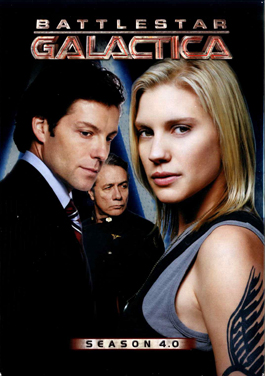 Battlestar Galactica: Season 4.0
Four discs; Universal Studios; $49.98
Reviewed by Michael S. Gant
The dénouement of TV's greatest running quest arrives Jan. 16 on SciFi with the last 10 episodes of Battlestar Galactica. That makes this the perfect time to catch up on, or to relive, the 10 installments of the first half of the final season, which ran in the spring of last year. As always, the show uses its humanity-under-siege arc to score some parting body blows at the Bush administration. Perhaps cracking under the strain of so much unshared responsibility, President Laura (can the name be a coincidence?) Roslin starts to act in a very high-handed manner, outlawing assemblies of the people without bothering to explain her actions to the defeatocrats on the Quorum of Twelve. Her imperial presidency bothers Lee Adama, who has given up overt combat for the infighting of politics. In the bowels of the ship, Gaius Baltar finds himself the center of a religious cult of fawning women who can't resist his philosophy or his physique. More troubling is the presence of Cylon models among the crew. Meanwhile, a civil war is brewing among the Cylons, some of whom want to make common cause with the Colonial Fleet in the search for Earth. Building with considerable suspense based on careful plotting over several years, this half-season (which just beat the deadline of the writers' strike) culminates in a devastating moment of harsh realization that perfectly sets up the endgame. This box set includes the stand-alone episode called Razor, about the backstory of the battlestar Pegasus; commentary; cast interviews; video blogs; and some amusing fanfest panel sessions with the main players and creators.
Click Here to Talk About Movies at Metro's New Blog
Send a letter to the editor about this story.