01.07.09
home | metro silicon valley index | movies | current reviews | dvd review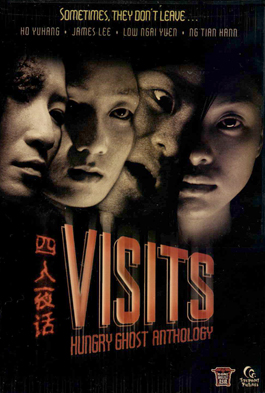 Visits: Hungry Ghost Anthology
One disc; Facets; $24.95
Reviewed by Michael S. Gant
This new entry in Bone House Asia series of Asian horror from Tidepoint Pictures presents a quartet of shorts (about 25 minutes each) by young Malaysian directors, held together with a brief framing device of a radio DJ broadcasting on the "14th day of the seventh month"—i.e. Chinese Halloween. All four entries tell eerie stories with varying degrees of effectiveness. The first film, 1413, by Low Ngai Yuen, looks at the aftermath of a schoolgirl suicide pact (a popular theme in Asian horror), as a survivor experiences some strange flashbacks in the hospital. Although the details aren't that clear, a dead girl seems to be the haunting agent as she conjures up memories of the love triangle that led to her fatal leap from a high building. In the most accomplished effort, Waiting for Them, directed by James Lee, a disaffected, emotionally stifled working woman carries on a desultory affair with a married man; meanwhile, a female friend keeps calling and complaining about her latest lesbian breakup. Eventually, the friend shows up at the woman's apartment—could she really be already dead? Nodding Scoop, by Ng Tian Hann, is a film about a student filmmaker that looks like it was made by a student filmmaker. A director gets two girls to help him conjure up a supernatural being, with the usual bad results. Ho Yuhang's Anybody Home is filmed mostly from hidden cameras in an apartment building in which a troubled woman is stalked by the maintenance man. After some long and very boring scenes of empty hallways, the film suddenly converts to a tale of half-glimpsed murder and abandons its initial conceit about surveillance and voyeurism. The films all suffer from narrative murkiness and abrupt endings that don't really add up dramatically or logically. On the plus side, the casts are full of some attractive young performers, particularly Carmen Soo of 1413, who is a real stunner. A making-of documentary fills in some of the gaps.
Click Here to Talk About Movies at Metro's New Blog
Send a letter to the editor about this story.