01.07.09
home | metro silicon valley index | movies | current reviews | film review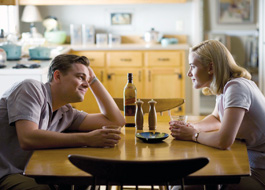 Francois Duhamel/©2008 Dreamworks LLC
TABLE TALK: Leo and Kate enjoy the Swedish-modern comforts of home in 'Revolutionary Road.'
Madame Winslet
As a Flaubert-style heroine, Kate Winslet's April never finds her Paris spring in 'Revolutionary Road'
By Richard von Busack
KATE WINSLET has now starred in two separate films inspired by Flaubert's Madame Bovary. First came last year's Little Children, about the steamy dissatisfaction of a suburban mother. Now comes Revolutionary Road, an intelligent, compact adaptation of Richard Yates' 1961 novel about a married middle-class couple, lost in desire for the ungraspable.
"I want to feel things," says April (Winslet), the female half of a pair of failed culture vultures. It's all there in her blood-colored lips and turbulent brow (you can almost see weather fronts colliding on it). This woman's sensuality is never far from rage. Winslet gives a trembling yet tough performance, and she smokes a cigarette like she means it. Winslet also has a late-night, last-chance dance at a gauche roadhouse that is an obvious classic, even before the number is concluded.
Sam Mendes' film amplifies the feminism in the book. That's no surprise, since Winslet, both a movie star and an eminent tragedian, takes the upper hand easily. Against this actress—this force—Leonardo DiCaprio looks like the aging juvenile actor he is. You can no more root for his side of the argument than you could take Joseph Cotten's side against the Bette Davis of Beyond the Forest. 
They meet at a party in lower Manhattan shortly after World War II. She, April, is an aspiring actress and falls for Frank's proto-Beat-generation suaveness. He, Frank, is an Army vet and a longshoreman who doesn't care much about what he does for a living.
When these dreams play out a few years later, Frank is commuting in from Connecticut to a dull job in the city. Mendes illustrates his fate in a few shots, with the help of a spine-chilling Thomas Newman soundtrack; we see narrow iron rails, folded newspapers, a wave of fedoras breaking on the steps of a Manhattan train station.
Now married, these Wheelers have two children, who are usually neither seen nor heard. And something has just died, and that's April's hopes of acting. She is frozen onstage when the curtain comes down on a failed little-theater production of The Petrified Forest—incidentally, a Bette Davis movie about a waitress who longs to leave America for Paris.
April's humiliation leads into a top-volume film-noir fight between the couple on the roadside, right next to a 1950s bulgemobile. The following Monday, Frank celebrates his 30th birthday by having a secret extramarital afternooner with Maureen (Zoe Kazan), a pigeonlike secretary. When Frank returns home, April is contrite. She has a plan: the two of them can escape their suburban unhappiness, liquidate the house and take their kids to Paris. There, she reminds Frank, is the only place where people are really alive.  
This moment of mutual exhilaration is doomed to failure, which won't shock those who have read Madame Bovary, a book consisting of a series of open doors that are first presented, then closed and locked. What happens later in Revolutionary Road can be mistaken for a simple endorsement of reproductive rights—the necessary correction to Juno and Waitress and so forth.
Larger-than-life movie lines spell out the couple's misery: "No one forgets the truth, they just get better at lying." Every great and deep movie needs something easily grasped in it; that's the part that gets mistaken for melodrama. 
Revolutionary Road is a ringing tragedy on many levels. First is the tragedy of the Wheelers themselves, with their essential lack of faith in each other. Their pride and prejudice don't help. Their sense of superiority blinds them to the world around them.
The film mocks the suburban drones around the Wheelers, but gently and sympathetically, just as Yates did. The supporting cast keeps providing new pleasures. Kathy Bates plays a gabbling but gentle Realtor. As Frank's boss, Jay O. Sanders has a wonderful meaty, jowly 1950s face; he feeds that face, snapping at his business lunch while deftly fastening the chain around Frank's leg. (Frank's big chance is a ground-floor job in the nascent computer industry. It's an inside joke for Northern Californians: if Frank sticks with high tech for 20 years, he'll be able to buy Paris outright.)
The great Kathryn Hahn plays the female half of the neighboring couple, the Wheelers' best pals. Hahn was essential to the success of Step Brothers; she's a comedian willing to play it very dirty, as in her cowboy strut to the urinal after raping John C. Reilly in the men's room. Here, she's the soft, dim wife of a husband (David Harbour) who has a secret passion for April.
Michael Shannon's tangy dash of horror comedy is sublime; he plays an emotionally disturbed visitor who gets way too excited by the Wheelers' plan of European escape. This, too, represents the edge of melodrama, the madman who can say what everyone's thinking.
Yet Shannon's one line of farewell is endlessly quotable, a summing up of life for generations of unplanned kids brought to term. Revolutionary Road is a movie for anyone who ever asked why some grim fate hitched up a draft ox and a prancing circus pony and then decided to present them to you as "your parents."


 REVOLUTIONARY ROAD  (R; 119 min.), directed by Sam Mendes, written by Justin Haythe, based on the novel by Richard Yates, photographed by Roger Deakins and starring Kate Winslet and Leonardo DiCaprio, opens Jan. 9.
Click Here to Talk About Movies at Metro's New Blog
Send a letter to the editor about this story.