01.09.08
home | metro silicon valley index | music & nightlife | band review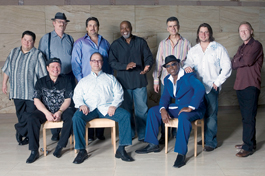 Courtesy Tower of Power
POWER PACKED:
The members of Tower of Power are still going strong after 40 years.
Towering Achievement
The funk-soul brothers of Tower of Power celebrate 40 years with reunions and a reboot
By Steve Palopoli
IT'S NOT simple luck that Tower of Power is celebrating 40 years as a band. It's more like a freakin' miracle.
Back in the 1970s, the band was riding high. Having formed just a couple of years after songwriter and tenor sax Emilio Castillo moved to Fremont from Detroit, they were suddenly making records for Bill Graham and charting Billboard hits like "So Very Hard to Go" and "What Is Hip?" They were becoming famous for their tight, creatively arranged horn section, and for their marathon live shows in the Bay Area and on the road.
And they were overdosing on the rock & roll lifestyle.
"We were going to get sober, or die," says Castillo.
Obviously, he made the right choice, and his band mates followed. It was 20 years ago that Castillo got sober, and after four decades he is still the leader of the iconic funk and soul ensemble, which plays Saturday, Jan. 10, at the Fox Theatre in Redwood City.
Could it be a coincidence that 20 years ago is also when many of the band's former members—and there have been dozens—began returning to the fold? Not a chance. Take early drummer David Garibaldi, who quit the band four times.
"I never thought David would ever come back to the band, to tell you the truth," Castillo admits. "Each time he left in the first 20 years, it was because we were crazy."
But after cleaning up the band's act, Castillo was persuaded to give him a call. That was 11 years ago, and Garibaldi has been drumming with the band again ever since. When he realized the culture of the band really had changed, and that he could play the music he loved without living in chaos, he told Castillo, "I always believed it could be like this."
Castillo's cleanup job and dedicated outreach program paid off when the 40th anniversary came around late last year. Suddenly everybody wanted to be part of it. "We had all the past members. And all the crew members who have ever worked with the band. We invited everybody," he remembers. "I can't say everyone left on the best of terms, but over the years we've all mended our fences. I'm blessed to say I really have no enemies out of all those guys."
And we know that isn't always how it plays out. "You hear about bands like the Kinks, guys beating on each other," says Castillo by way of comparison.
In October, Tower of Power played a blowout 40th anniversary show at the Fillmore, featuring members from all incarnations of the band. In the coming months, a DVD of the show will be released, with extras that include interviews with members, former members and family members.
The group is building on the momentum from the anniversary celebrations with a new album out this month called Great American Soulbook. It includes guest vocals from the likes of Tom Jones, Joss Stone and the band's longtime friend Huey Lewis, who featured Tower of Power instrumentation on many of his hits. On Soulbook, Tower of Power covers its biggest soul and funk influences, including four James Brown songs and one from Sly Stone, to whom Castillo feels a particularly emotional connection.
While he's flattered, for instance, that the Berklee School of Music teaches a course in Tower of Power's music, he got his own education sneaking into the Bay Area club Frenchy's to watch Sly Stone play. He appreciates that he is now a role model in the same way for a new generation. "When I see a young person checking out the band, I think of myself standing at the side of the stage watching Sly," he says.
If there's anything Castillo misses about the band's crazy early days, it may be that the members weren't spread out everywhere, which now makes it a bit of a logistical nightmare to keep the band rolling.
"Back then, we all lived together, we all partied together, we wrote when the mood struck us. It came out like sweat," he remembers. "Now it's no harder to write the songs, but it's harder to get together and do it."
 TOWER OF POWER performs Saturday (Jan. 10) at 8pm at the Fox Theatre, 2209 Broadway in Redwood City. Ticket are $35. (650.369.4119)
Send a letter to the editor about this story.