01.07.09
home | metro silicon valley index | columns | style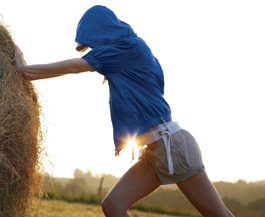 WELL SUITED: This running outfit is the creation of English fashion designer Stella McCartney, in her line Adidas by Stella McCartney.
Style
The Perfect Fit
By Jessica Fromm
NOW THAT the haze of champagne and appletinis from New Year's Eve has worn off, the masses are hitting the gym with a vengeance. Fitness is a perennial resolution favorite, but just because you're sweating the extra poundage away doesn't mean you can't make an effort to look your best. Truth is, many people, and most women, are much more motivated to work out if they can look cute doing so. There's nothing like some fresh hot gym wear to go along with a healthy new regime. Now, some people are perfectly content with the standard issue baggy T-shirt, wife beater and sweat shorts we all donned in high school PE class. But for those of us who need that little extra oomph to get out of bed and moving in the morning, investing in a killer workout wardrobe can be a great motivator. Even for the steadfast few who've actually stuck to their gym membership all year long, new exercise gear can keep their exercises from becoming stale.
The things to remember when choosing fashionable gym essentials is that they should be flattering, but above all functional and comfortable. Workout cloths have to allow for a full range of motion and proper ventilation. People who are not comfortable in their workout clothes are much more likely to skip spin class.
If you've worked hard for your figure and you don't mind showing it off, by all means go for it, but keep your fellow gym-goers in mind. If you spend more time readjusting your spandex then focusing on your kickboxing routine, you should probably be wearing a top or bottom with better coverage.
Proper undergarments are essential, particularly for woman. Choose a supportive exercise bra, as your everyday demifit will probably not keep you from bouncing around and hitting yourself in the chin. Also, because many workout bottoms are on the clingy side, avoid a panty line travesty by eschewing bunchy knickers.
Jeans, trousers and long, dangling jewelry are always a no-no, as is anything with a heel (that is, unless you're taking a dance or tap class).
The importance of proper fitness footwear cannot be overstated. In high-impact sports and hard-hitting fitness regimes, you need proper footwear for both safety and style. Protect your knees, feet and back by having highly supportive shoes.
Even though good workout wear tends to be the expensive side, it'll usually last you at least a few years if you can invest in a few high quality pieces. Not to mention that attractive and stylish fitness clothes can make appearances in the casual side of your closet for laid-back coffee dates or weekend shopping.
If you're sick of that same old boring black sports bra, then why not switch it up and try the colorful Active Mesh Bra by Patagonia? Coming in colors like vermilion, leaf and mushroom, this soft and stretchy work out bra sports a pretty branch-and-leaf graphic print. Priced at $34.95 at www.patagonia.com, it provides fluid support with V-style back straps, and eliminates chafing with a seamless, moisture-wicking nylon spandex mesh.
If you've ever been wearing a heavy sweatshirt and thought, "Gee, I'd be so much more comfortable if my shoulders weren't so hot'" then the Open Shoulder Hoodie by Cheap Monday might just be the ticket. The extra-roomy sweatshirt offers the best of both worlds by keeping your noggin and body snug, while your shoulder blades are free to cool in the wind with two leather-style trimmed cutouts. The hoodie works great over your workout clothes on your way to or from the gym, or jogging on a cool day. The hood even looks like a stylish cowl neck when pulled down. A drawstring hem and elastic cuffs finish off a truly unique pullover, offered for $55 at Urban Outfitters on Santana Row.
A few seasons ago, English fashion designer Stella McCartney started bringing her signature feminine stylings to Adidas yoga wear and sportswear in her line Adidas by Stella McCartney. Its lightweight Menari Flats are quintessential Stella: simple, cute and elegant. Best for low-impact fitness activities like yoga, Pilates or just plain walking the dog, the shoes' breathable mesh and wide elastic band give maximum fit and comfort. They are sold for $95 at the Adidas official online store, www.shopadidas.com.
Guys who want to show off pride for their favorite European football team can do so in an official player jersey by Puma. A step up from that grungy T-shirt with the sleeves cut off, these soccer jerseys are decked out in the colors of national flags, great for both your morning jog and just lounging on the couch. The bright crimson Poland jersey, which can be bought at www.soccer.com for $64.99, is particularly striking. Composed from 100 percent performance polyester with mesh ventilation, it features the Poland white eagle badge, white side stripes and Polska felt design.
You can make a philanthropic move with your next sneaker purchase by trying special edition Nike Emily's Free Mary Janes: 100 percent of Nike's profits from this special collection benefit programs at Doernbecher Children's Hospital. Designed by 17-year-old contest winner Emily Giersch, the shoes' look takes inspiration from the surf and sand of Hawaii. The slip-on Mary Jane is made from soft suede, Phylon and rubber, providing flexibility and support with grooving at the sole. Traction and durability make it perfect for both the dance studio and weight room. They're $60 at www.nike.com.
If you like a body-hugging silhouette to your work out tops, the Runway Tee by Puma will be a perfect fit. The shirt's stretchy moisture-wicking fabric and brogue-effect back neck tape will keep you comfortable on the treadmill. Made from 65 percent polyester and 35 percent cotton, it has pin tuck details and a graphic pigment print that gives it personality, and costs $35 at www.Store.Puma.com.
Send a letter to the editor about this story.