01.07.09
home | metro silicon valley index | columns | Wine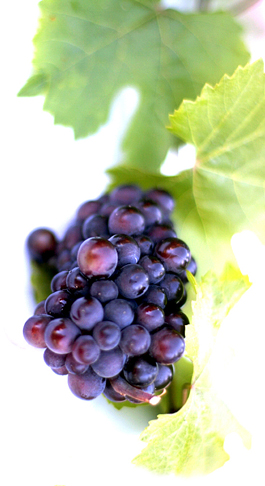 The Wine Column
Future in Syrah
By Stett Holbrook
THE SANTA CRUZ Mountains have long been known for great cabernet sauvignon and chardonnay. Pinot noir emerged as the darling varietal over the past 10 years. Now, syrah is becoming the grape to watch.
Like pinot noir, syrah grows well in the cool mountains, but for whatever reason it hasn't been planted to the extent of other grape varietals. But that's changing. While the wines vary because of diverse growing conditions and winemaker styles, what I've tried is distinctly different from the high-alcohol, intensely fruity Australian shiraz that dominates much of the market. (Syrah is known as shiraz in Australia.) Some of the best local syrah leans toward a more restrained, elegant, food-friendly style. At Vinocruz, a Santa Cruz wine shop that specializes in Santa Cruz Mountains wines, Kathryn Kennedy Cellars' 2005 delicate syrah is the store's No. 1 seller.
Bradley Brown was one of the first local winemakers to see syrah's potential. His mountaintop Big Basin Vineyards is one of the region's premier syrah producers. His first harvest of 300 cases was in 2002 and production has been growing ever since. 
"I felt like [syrah] was a varietal that was going to come on strong," he said of his decision to plant syrah vines. "I always wanted to do something a little bit different."
He makes wine from his estate vineyard as well as from other nearby sources. He also grows roussanne, grenache and a bit of viognier. The iron-rich, friable soil and cool, windy climate seems perfectly suited to syrah.
His 2006 Mandala Syrah is a bit tightly wound, but after a few hours opens up to reveal elegant, juicy berry flavors that finish with a touch of spice and earth. It's made from estate grapes as well as fruit from the Santa Lucia Highland in Monterey County. His 2005 Rattlesnake Rock Syrah is made exclusively from the winery's 1,400-foot estate vineyard and has won high praise for its complex spice and dark fruit flavors. San Francisco Chronicle wine editor Jon Bonné named it his Top 20 "unexpected pleasures" for 2008. The 2005 vintage is sold out, but the 2006 will be released this spring so keep your eye out for it.
Other standout syrah producers from the Santa Cruz Mountains I've tried include Kathryn Kennedy Winery, whose wines remain one of the exemplars of the varietal; Black Ridge Vineyard; and Campbell's tiny Stroth-Hall Cellars. Stroth-Hall's Nelson Family Vineyard–designated syrah is particularly good. During a barrel tasting of the 2005 syrah I sampled back in 2007, aromas and flavors of black pepper leapt out of the glass. Unlike Big Basin Vineyards' mudstone soils, the 1,600-foot Nelson vineyard is loaded with sandstone and ancient ocean floor which helps give the wine its distinctive character. Syrah seems to have found a perfect home in the Santa Cruz Mountains. I look forward to tasting more of what the region can produce.
Send a letter to the editor about this story.