01.09.08
home | metro silicon valley index | music & nightlife | band review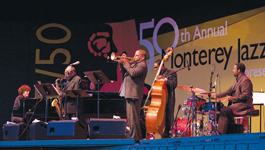 TEAM MONTEREY: The Monterey Jazz Festival's 50th Anniversary Band embarks on a nationwide tour.
Free Reign
The Monterey Jazz Festival presentsits 50th Anniversary Band
By Andrew Gilbert
THE Monterey Jazz Festival celebrated its golden anniversary last September with a dazzling array of jazz talent at the Monterey County Fairgrounds. And to make it clear that the world's longest continuously running jazz event is still looking to break new ground, the festival is taking its show on the road for the first time with the Monterey Jazz Festival 50th Anniversary Band.
The multigenerational all-star ensemble is embarking on a 10-week, 55-date North American tour, including an early stop at the Rio Theatre in Santa Cruz on Friday and UC-Berkeley's Zellerbach Hall on Saturday. While the band is led by the still-boyish-looking pianist Benny Green, who first performed at the festival in 1978 as a precocious Berkeley High student in the Monterey Jazz Festival High School All Star Big Band, its animating spirit is the legendary 82-year-old saxophonist and flutist James Moody, a festival mainstay who made his Monterey debut as part of Dizzy Gillespie's band in 1963.
A second-generation bebopper with a lithe, ebullient sound, Moody is an American treasure who combines a mischievous sense of fun with dead serious virtuosity, whether crooning his classic vocalese "Moody's Mood for Love" or offering a deliciously piquant flute solo.
"He's by far the youngest one in the band," says Green, 44. "We all know what a veteran he is, how far back he goes, but it's really beautiful to see someone who's so experienced in life and an optimist, not at all jaded or bitter, someone who's always learning and open minded and humble to others. His love just pours through his horn."
The band also features the lovely vocalist Nnenna Freelon, the brilliant trumpeter/composer Terence Blanchard and the powerful rhythm section tandem from his working band, bassist Derrick Hodge and drummer Kendrick Scott. The ensemble made its debut with two sets at last summer's festival, and a live recording drawn from those performances is available on the tour.
The original plan was for the band to perform material linked to artists strongly associated with the festival while also taking advantage of Blanchard, a gifted composer who has scored more than a dozen Hollywood films, including all of Spike Lee's joints since 1991's Jungle Fever. But Green, a player supremely sensitive to his colleagues' bandstand vibe, quickly realized that the music wouldn't be served by a constricting agenda.
"A lot of the initial structural elements that we had in mind kind of melted away," Green says. "And it was naturally revealed that we're all passionate players, and more important than trying to cover a lot of bases, playing music by different composers, I think the best thing we can give the audience is something that allows everyone's individuality and personalities to have more free reign."
"In short, I went from thinking about it as a very structured and arranged situation to a climate that really allows everyone to breath," Green continues. "We're all natural performers. As the so-called musical director, as well as taking responsibility for our presentation, I want to step back and allow the band to take shape freely and naturally."
Green's savvy judgment is confirmed by the All-Stars' Live at the 2007 Monterey Jazz Festival, an album released in conjunction with the tour by Monterey Jazz Festival Records. From the opening track, a blazing version of Dizzy Gillespie's anthem "Be-Bop," to the poignant closer, Sammy Cahn's classic ballad "Time After Time," the group is clearly inspired, if not entirely relaxed in the new setting.
MONTEREY JAZZ FESTIVAL 50TH ANNIVERSARY BAND performs on Friday (Jan. 11) at 8pm at the Rio Theatre, 1205 Soquel Ave., Santa Cruz, tickets $35–$50, and on Saturday (Jan. 12) at 8pm, Zellerbach Hall, UC-Berkeley, tickets $34–$52. (831.427.2227)
Send a letter to the editor about this story.