January 10-16, 2007
home | metro silicon valley index | columns | the fly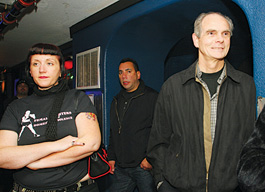 Testing his metal: Mayor Reed at Johnny V's
Silicon Valley News Notes
Rolling With Reed
New Mayor Chuck Reed kept his post-election pledge to club crawl with Metro owner Dan Pulcrano by year's end, rolling nine deep through downtown on Saturday, Dec. 30, and hitting more nightspots than most San Joseans hit in a year. Joining the bar-hopping were Pete Constant and Sam Liccardo, the council's two new members; Pete Furman, Reed's chief of staff; Pierluigi Oliverio, a bartender; Tom McEnery, a former bartender; and a two-member armed mayoral security detail supplied by the city's Police Department. Reed, who never goes out and drank all of two bottled waters the whole night (whoa, slow down there, Chuck!), wanted a firsthand look at the city's nightlife and its controversial entertainment-zone policing policies. First stop was SoFA Lounge, commemorating its final night before closing for six months to address fire department niceties. The posse then jumped the velvet rope at Angels, where Reed looked impressed with the chic décor but disinterested in the current nightclub phenomenon of pole dancing. After a stop at the SoFA district's new 18-up club, Raw, the group cruised by Post Street's gay clubs and past a clutch of trannies to make their way through both the banda and Viet rooms at hopping Club Lido, the only place with two live bands. After dropping by Studio 8, Reed took interest in an F-word-studded, ear-bleedingly loud speed metal set by 12 Steps to Nothing at Johnny V's. Picking up the pace, the crawlers checked out the action at Toon's, Voodoo Lounge, Caper's Loft, Tres Gringos, Blue Monkey and Temple, then headed over to Taste to watch San Jose's finest perform their closing night ritual, accompanied by commentary by entertainment zone czar Sgt. Brian Kneis. This provided the only action on a slow night, as police handcuffed a handful of poorly behaved drunks who had been herded onto San Pedro Street and into the four-story parking structure there. "Isn't it a shame that tax dollars are spent on this," commented McEnery. The ex-mayor and San Pedro Square property owner would like to see the city purged of big, rowdy clubs, replaced, presumably, by quaint Irish pubs catering to the city's large population of leprechauns. Others lobbied the new mayor for more low-key policing and post-2am closings that would allow club-goers to peel off in a less frenzied fashion. After Reed headed home, remaining members traversed downtown in search of a late-night snack. The quest, of course, was futile.
Chuck Reed Inauguration Photo Gallery (Jan. 9, 2007)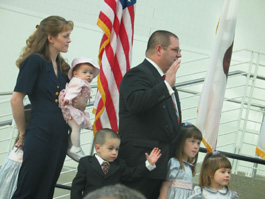 Councilman Pete Constant and his family.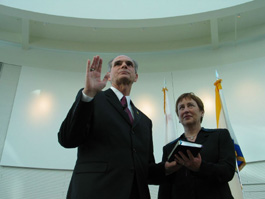 Chuck Reed.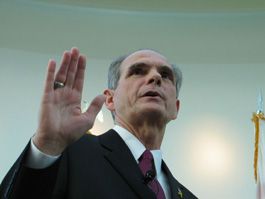 Reed.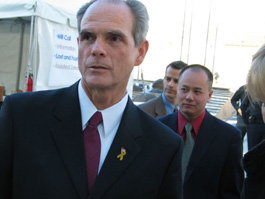 Reed.
Downright Neighborly
If there was any doubt that "sunshine" is the watchword for San Jose politics in '07, one need only have been at the Neighborhood Commission Forum at City Hall Saturday morning to see how it's finally soaked through to the residential level. In reviewing the achievements of the Strong Neighborhoods Initiative Project Advisory Committee, "Sunshine Reform" made the top 3 on the big-screen-projection list. "You've all been seeing that in the paper," noted SNI PAC chairman Ernest Guzman of the concept. But the SNI PAC is clearly hoping its proposed neighborhood commission will be the ultimate in South Bay sunshine, giving residents from every district direct access to the city's decision-making process—and even to city staff. Make no mistake, this is scary territory for any city government, as evidenced by the fact that only two places in the entire country, L.A. and D.C., have attempted it on this scale. "We're on the threshold of something new," said Guzman. Clearly neighborhood leaders are ready. Not only was the turnout impressive, with residents from every district in attendance, but audience members were beating speakers to the punch on translating bureaucratic nonsense. When Guzman couldn't remember what "PDO/PIO" stood for, several residents called out "Park Dedication Ordinance/Park Impact Ordinance!" as if, like, duh! When he paused for a moment to consider "LOS," nearly the entire audience seemed to release a collective "Level of Service!" The purpose of the meeting was to give some more shape to the commission concept, and the districts broke up into separate groups to get their neighborhood-specific-input on. Several district-leader types were there, including Steve Tedesco, who's in the March 6 run-off election for the District 6 council seat. But the most interesting revelation was the save-the-date announcement that incoming Mayor Reed will meet Jan. 20 with neighborhood leaders about spending priorities. That and the recognition by co-chair Autumn Gutierrez that, along with all of the other little indignities of participatory democracy, residents who have dedicated themselves to working with SNI PAC on this have had to suffer "one of the longest acronyms in San Jose history."
Sign Off
There's nothing tackier than leaving Christmas decorations out until July, except political signs out until January. We've seen them lingering on front lawns, stapled high on telephone poles and plastered on the sides of buildings well after the election is over. And by now we're certainly "over" the chintzy eyesores that candidates have been too lazy to retrieve. Luckily, California lawmakers felt the same way when they wrote the State Outdoor Advertising Act. Officially, these temporary signs must be registered with the Department of Transportation and taken down no later than 10 days after the election. If DOT officials have to remove them, they have the right to bill the candidate or person responsible for the cost. But, it turns out, the agency hardly ever exercises this right. "It's a huge amount of work for us to monitor all of the signs," said Caltrans spokesman Jeff Weiss. He couldn't think of an instance when the agency actual billed for the removal, because it's too busy trying to keep state-owned right-of-ways clear of the pesky plaques. "It's an immense ordeal that happens ever year," Weiss told Fly. "Political opponents call us about signs and try to put us in the middle. We hate it." Maybe a little social pressure will do the trick. You can help finger the sign offenders by letting us know precisely where you still see their advertisements hanging around—we're keeping a running tally.
Send political tips to The Fly. Or send a letter to the editor about this story.