January 11-17, 2006
home | metro silicon valley index | music & nightlife | band review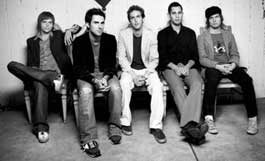 Channel Zero: Repeat: Less Maroon 5 on the radio is a good thing.
No Mas
Strike up a bolero for Channel 104.9, but what's up with the racial overtones?
By Todd Inoue
LAST WEEK, Fremont-based alternative rocker Channel 104.9 flipped formats to the Spanish-language "La Romantica, Con Mas Amor" format. After the success of another South Bay rocker turned Mexican music—KSJO morphing into "La Preciosa" back in 2004—the station's owner, Clear Channel, saw fit to do another and Channel 104.9 fell off on New Year's Day. And why not? KSJO has quadrupled its ratings after substituting Mandatory Mariachi for Mandatory Metallica.
I appreciated Channel 104.9's dedication to the South Bay. The station promoted well and built up a decent following, earning good ratings and bringing acts like Garbage to the South Bay. I wasn't too hot on Channel 104.9's playlist though; it felt corporate and droney (hello?! Clear Channel!). Every time I tuned in, it was Foo Fighters and Alanis yelling at me, Coldplay and Staind dragging me down or the guy from Maroon 5 trying to get in my pants. Not my scene, but whatever.
Now some Channel 104.9 fans are disappointed and confused, and I can understand. It sucks when a favorite radio station shuts down without explanation overnight. But as impudent as Clear Channel is, I can't believe some of the reactions emanating from the more fringe element of the alternative nation. Comments I've been reading mirror those of border militia bemoaning the loss of precious jobs, but instead it's the supply of Gorillaz, Jimmy Eat World and Death Cab for Cutie.
The venting reached a head on an online petition (petitiononline.com/1049) where many of the comments adhered to a racist bent. These feelings spilled over into the mainstream: "I have nothing against Spanish-speaking peoples, but I don't feel that they need every station on the dial speaking their language," wrote one on the Mercury News website. "Yeah, we really need more of these fucking Spanish music stations. Don't they all play the same music?" posted one on Velvet Rope, a music insider site.
Scariest was this brain trust that emailed Metro. "Once again, listeners are outraged because we are in America and have only one other alternative station left (it happens to be SF-based Live 105) to listen to in the South Bay in lieu of one more Spanish broadcast we can't make use of. KCLN [sic] was the only local alternative/rock station left for the South Bay. Now it's for the Mexicans. English-speaking Americans are now left with even less, and this seems to be a sick trend."
Holy crap! Do the words "changing demographic shift" mean anything? If Mexican music all sounds the same, then Channel 104.9 staples like Jack Johnson, John Mayer and Rob Thomas need to take a DNA test. And don't get me started on the rap rockers.
Channel 104.9 fans complain that their new rock is being taken away, but frankly I feel sorry if Channel 104.9 is their source of cutting-edge music. Have any of these complainers heard of college radio? KFJC, KSCU, KSJS and KZSU were playing those bands when they were still independent. And if these pissed-off cats can send off emails from their DSL lines, they can tune into any Internet radio sites that specialize in the exact music they want—or listen to Live 105.
And what's wrong with another Spanish-language station? I've been peeping out the reggaeton station La Kalle (105.7) sometimes. I'm not even a fan of reggaeton, but I do find myself humming the songs. I like the boom-biddy-boom riddims, the bilingual energy of the DJs, the whooshing club ads, the back-to-back placements of Daddy Yankee and Snoop Dogg. It's fun, and it works.
So toss back a beer for Channel 104.9. And for you fringe "this is the second coming of the loss of our civil rights," get out of your well-heeled enclave, take a Spanish class and give La Romantica a chance. You could make some new friends, and you just might get laid!
See a cross section of humanity arguing for the return of Channel 104.9 at www.petitiononline.com/1049.
Send a letter to the editor about this story.