January 11-17, 2006
home | metro silicon valley index | the arts | stage | review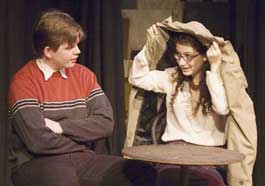 Photograph by Scott Schappell
Hide and Seek: Brennan Holness and Irina Khodorkovsky star in Beth Henley's 'Am I Blue,' part of Red Lantern's evening of one-acts.
Red Lantern Shines
A new company presents a quintet of one-acts on love
By Marianne Messina
WITH THE DESIRE to put on shows that she herself wanted to see, Allison Asher launched Red Lantern Theatre Company. "Acting, directing and producing your first show is an insane thing to do," Asher says. To that, she adds, "Doing it all by yourself is an insane thing to do." So, in putting together the quintet of one-act plays that make up the program "Desire: An Evening of Plays on Love," Asher enlisted fellow Foothill Theatre Conservatory veteran Lance Gardner. As a director, Gardner is low-key. "Try something for me," he says in rehearsal to actress Irina Khodorkovsky, who is playing Ashby in Am I Blue. He suggests a slight change in the handling of a prop, a raincoat, that sharply cranks up the visual humor in her lines.
Of his first directorial experience outside Foothill College, Gardner says, "It's nice to be able to do things on one's own terms." But in this fledgling company, Gardner is also finding out what it's like to be his own production team. There's no props department or sound department to consult. Instead, he and Asher wrangle their own props, and Gardner is putting together the soundtrack for Am I Blue song by song. Gardner chose two of the program's plays, which he also directs, All About Al by Cherie Vogelstein and this play by Beth Henley.
In Am I Blue, frat boy John Polk (Brennan Holness) seems to have it all, yet we begin to see tears in his disguise when he meets Ashby, the quirky latchkey daughter of a divorced, alcoholic father. "He has no idea what he's doing," says Holness of his character. "He's terrified of everything he has to do in the world." For Gardner, the fact that Polk is a "sweet" and "vulnerable" character shakes up the ordinary. "The base of the play has this kind of innocence," Gardner explains. "And there's magic in the innocence."
This magic, which Gardner hopes to sharpen as he shapes his two productions, is something he's often felt was missing from some of the more mainstream productions he's been in. "A lot of theater doesn't challenge me," he admits. "It's too easy to fall into." This emerging company is giving him the opportunity to explore his ideal theater experience, one he finds somewhat ineffable but which he hopes will connect audiences to "something that they've lost or they look for."
As the program came together, Asher's original impetus for the project, the one-act A Dialogue Between a Prostitute and Her Client, actually got dropped. And though the program ultimately ended up on the conservative side of the plays on Asher's wish list, it still aspires to the sense of "human aliveness" Asher feels after she attends an evening of exciting theater: "I take home the belief that there is more to life than what we go through every day, that there is a level of beauty and truth and integrity that transcends the mundane, that is possible in the world."
The resulting five plays, under the direction of Asher, Gardner and Elizabeth Nordt, offer a prismatic look at love, from the raw abandon of passion (Compatible by Anna Li) to the humorous truths of breaking up (Vogelstein's All About Al). And they're told in a variety of styles from Kristina Halvorson's serious, realistic play about two roommates trying to connect (One Hundred Women) to Charles Mee's ironic, somewhat abstract look at romantic love in Constantinople Smith. "Whether it comes from a realistic play or something more abstract, the way to tap into that human aliveness can come from lots of different directions," Asher says as she considers where Red Lantern might be heading. She admits to running more on inspiration than deliberation. "I personally am searching for which way is my own personal way, and as a result I think the company is still going to be searching for a little while."
Desire: An Evening of Plays on Love, presented by Red Lantern Theatre Company, runs Friday-Saturday at 8pm and Sunday (Jan. 22) at 7pm through Jan. 22 at the Pear Avenue Theatre, 1220 Pear Ave., Mountain View. Tickets are $10-$15. (650.274.6721)
Send a letter to the editor about this story.