January 11-17, 2006
home | metro silicon valley index | silicon valley restaurants | review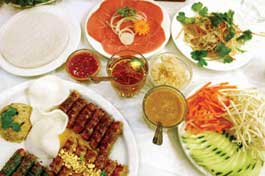 Photograph by Felipe Buitrago
Magnificent Seven: A few of the 'seven ways' you get your beef at Anh Hong.
Beef Beyond Belief
Bo bay mon is seven courses of meat lover paradise
By Leith Steel
YOU'VE EATEN your weight in bowls of pho. Imperial rolls? Spring rolls? Been there. Silicon Valley is blessed with an abundance of Vietnamese food, but it's easy to get stuck in a rut. If that's the case, it's time to experience bo bay mon.
Bo bay mon is translated as "beef seven ways" or "seven courses of beef." Well before the campy Iron Chef television cooking competition popularized the idea of a multicourse meal built around a single ingredient, Vietnamese cooks were celebrating the versatility and virtues of beef with this traditional banquet.
What sounds like an Atkins-induced overload of protein is in fact a fairly well-balanced, vibrant display of kitchen creativity. Because of the work involved in preparing all seven dishes, bo bay mon is most often eaten in restaurants instead of at home. Ann Le, a co-owner of the popular Tamarine in Palo Alto, describes the appeal of the dish.
"In Asian cultures, food is emotional currency," she says. "You show your love through food. The extensive nature of bo bay mon, along with its interactive component, makes it a celebratory occasion, and it shows love for your guest."
Tamarine serves one of the seven courses, the beef wrapped in la lot leaves, as part of the Tamarine "taste platter," but it's so popular customers request it a la carte.
Not every restaurant that offers beef seven ways serves the same courses in the same order. Here in Silicon Valley, Anh Hong, a restaurant with locations in San Jose and Milpitas, is considered one of the exemplars of the culinary tradition. And for good reason. Chef and owner Michael Le says his great grandmother invented it in Vietnam.
According to Le, his great-grandmother first started cooking seven courses of beef at a small street stand in Phu Nhuan, Vietnam. A graduate from the French Culinary School in Saigon (now Ho Chi Minh City) and an apprentice under a French chef, she wanted to introduce French-style, multicourse meals to Vietnam.
That first street stand became a small restaurant that later became a larger restaurant before culminating in a grand outdoor, 900-seat restaurant in Saigon. From 1954, when the first Anh Hong opened, to 1975, when the family was forced to flee the country, the Lee family watched the success of seven courses of beef spread throughout the region. Few people can lay claim to changing the way an entire culture eats, but it appears Le's great grandmother is responsible for creating a celebratory feast that is now ingrained in Vietnamese culinary traditions.
In the United States, little of the seven courses of beef has changed since the first Anh Hong opened in Vietnam over 50 years ago, but the first course was converted to a salad in response to American customers. At Anh Hong in Milpitas, shredded carrots, daikon radishes and celery, roasted red onions and fresh herbs are tossed with a lively dressing of fish sauce, chile and both lime and lemon juices. The resulting mélange is a sprightly salad with high-flying flavors that range from sweet to sour to spicy. It's only the accompanying beef that tethers the dish to the ground.
After the salad comes a barrage of plates and condiments for the next course; rice paper wrappers, bowls of water to dip them in, the ever-present bowls of nuoc cham, that all-purpose Vietnamese dipping sauce composed of fish sauce, sugar, lime, chile and vinegar, and plates piled high with mountains of fragrant fresh herbs, tender leaves of lettuce and an assortment of crisp vegetables. For the more adventurous or traditionalists, there is also a pungent anchovy sauce that is tempered with pineapple, garlic and chile peppers.
In the middle of all this hubbub, a brazier with a bubbling cauldron of red wine vinegar fondue and a platter of paper-thin slices of raw beef appear. Diners pick up slices of the meat and give them a quick swirl in the vinegar bath, flash-cooking the beef and then wrapping it up in a do-it-yourself spring roll. Before you do that, the rice paper needs to be dipped in a warm water bath to soften it. Then you place a fresh leaf of lettuce inside the wrapper and line that with fresh herbs (mint, Vietnamese mint, sawtooth coriander) and add a pinch of bean sprouts or shredded pickled carrots or daikon and a slice of cucumber for crunch before sliding in a still-warm morsel of beef. Wrap up your concoction and dip it in that sweet and tangy nuoc cham (or the anchovy paste) before conveying the entire contraption to your mouth without making a mess. The Vietnamese can do this expertly, but my bumbling hands and American appetite for supersized food makes this a messy proposition. Playing with your food has never been so rewarding.
When the fondue is finished, the next courses arrive. One offers steamed meatballs, succulent orbs of steamed beef mixed with mushrooms, nuts and spices. These are eaten with crispy shrimp chips. The other platter is stacked with an array of grilled beef: minced beef wrapped up in la lot leaves (an herbal and citrus-flavored pepper leaf)—a carnivorous riff on dolmas; grilled beef topped with finely chopped peanuts and lemon grass; and grilled beef sausage. As soon as the plates arrive a frenzy of grabbing and eating follows. Pinballing from the slightly astringent herbal la lot wrapped beef to the subtly sweet glazed sausage and then to the complex nuances of the steamed meatball, it's hard to decide what to try next or when to stop.
The last course is a rice and beef soup. Similar to a Chinese congee, the rice is cooked until very soft and served in a light ginger-infused broth with scallions and minced beef. At this point in the meal the soup is an afterthought, one last taste in case you aren't yet satiated—unlikely considering the preceding feast. It is more of a digestive than anything else.
A bo bay mon banquet may sound like gluttony but it's actually an elegant meal if you order correctly. The trick is to order fewer portions than people present. For eight people you only need order five or six portions and at $14.95 per order this is a spectacular deal; almost as affordable as pho and infinitely more exciting and enjoyable.
"Restaurants come and go," says Le, explaining the success behind the Anh Hong restaurants and the popularity of bo bay mon. "We have had the same menu, the same items since 1954. People never get tired of it."
---
Anh Hong, Milpitas
Address: 233 W. Calaveras Blvd., Milpitas.
Phone: 408.946.9046.
Anh Hong, San Jose
Address: 1818 Tully Road, #150, San Jose.
Phone: 408.270.1096.