01.14.09
home | metro silicon valley index | the arts | dance | review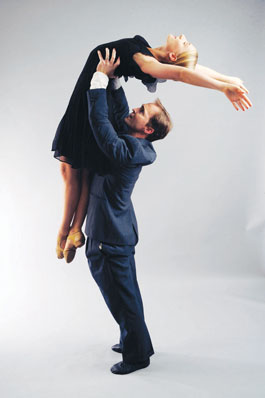 Photograph by Dave Lepori
GOING UP: Matt Kovac gives Shaina Leibson a lift in 'The Distant Land of My Father.'
Two Worlds
Margaret Wingrove Dance Company dances superbly in choreographed version of local novel
By Jessica Fromm
MOVING between the polar worlds of wartime Shanghai and 1960s Los Angeles, the Margaret Wingrove Dance Company's production of The Distant Land of My Father is a journey of opposites. Classical Chinese music is mixed with the Mamas and the Papas. Western dance movements are blended with Asian sensibilities. Betrayal and resentment are intertwined with truth and forgiveness. Adapted from a novel by author and Cupertino resident Bo Caldwell, San Jose choreographer Wingrove interprets the fictional tale of Anna Schoene, a young woman coming to terms with her childhood spent in China. After an adult Anna (Shannon Bynum) finds a letter from her deceased father, read in a voice-over by Judith Miller, we are catapulted into a series of chronological, memoirlike flashbacks.
The stage is set in 1937 Shanghai, a blue backlight screen to the right, contrasting with a bright red Chinese building to the left. The story gets off to a light start with a romantic duet danced between Anna's parents. Beautiful and loyal Genevieve Schoene (Shaina Leibson) gets whipped and lifted around the stage in a cerulean-blue, mandarin-collared dress by the charming, pinstriped businessman Joseph Schoene (Matt Kovac). After their dance, Bynum runs out onstage as the young Anna, complete in suspenders, pigtails and bobby socks. Although the dance between Anna and her father is fun, with shameless mugging on the part of Bynum, it also shows a darker side to her father's character. When he playfully boots Anna away to get work done, he is mirroring his eventual decision to push Anna and her mother out of his life for good.
Even though it has no logical place in the plotline, the duet danced between Joseph's "Other Woman" (Jing Zhang) and a lowly street-vendor suitor (Le Mai Linh) was a highlight. Linh was pure power and desperation as the rejected vendor vying for a woman's affections, truly a wonderful display of command of movement. In the scene, bathed in blue by lighting designer Richard Larsen, the vender is at once grabbing for the woman's attention, spinning her body around, then cradling her foot to his cheek before she pushes him away. The scene projects a sort of desperate kineticism, an energy of pursuit and physical longing.
Overall, the dancing was superb on all counts, particularly that of Leibson as graceful and elegant Genevieve. While staying true to the story arc of the book, the characters portrayed by these seven dancers never gave away enough of themselves to transcend a certain flatness, though not for lack of trying. Perfect positions and pirouettes can't hide the fact that passion seemed to be lacking behind these characters, and the story line ended on a note that lacked both realism and closure. Though the book's main message that "it's never too late for forgiveness" came through, it never fully made sense. Imagery and texture may be there, but the 15 dance numbers lacked the consistent emotional charge that would merit what is essentially Anna's two-hour rumination on the perplexing person of her father.
Send a letter to the editor about this story.