01.14.09
home | metro silicon valley index | silicon valley restaurants | review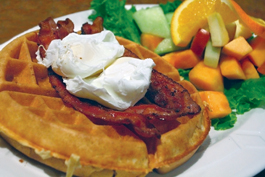 Photograph by Felipe Buitrago
EGGED ON: The Benedict waffle comes with bacon and fruit at Flames
Spark Place
New downtown San Jose Flames adds heat to the breakfast scene
By Stett Holbrook
AMERICA gets a lot of stuff wrong (see: financial regulation, Republican presidents and Hummers), but the coffee shop is not one of them. Like jazz and bourbon, the coffee shop is one of the things we do well.
Nobody goes to a coffee shop for a great meal. But it is a place for a late-night meal, a satisfying lunch with extra fries and a large, lazy breakfast in a plush booth with all the mediocre coffee you can drink.
Fast, friendly and reliable, the coffee shop is where we go when we want to eat out, but don't want to worry about what to eat or how much it will cost. Cheeseburgers, tuna melts, waffles, Denver omelettes, French dip sandwiches, chicken noodle soup and cherry pie, all the old standards are available at a good coffee shop. There's something for everybody.
In Silicon Valley, the homegrown Flames restaurant chain is the area's definitive coffee shop. Known for big portions and even bigger cakes, Flames epitomizes everything that's right and good about coffee shops—generous portions, fast service and food that doesn't amaze, but usually satisfies.
Building on their great brand name, the restaurant opened a fifth location in downtown San Jose in October, Flames Eatery and Bar. The place was instantly popular and plugged a hole in downtown's dining scene for early morning and late-night crowd-pleasing dining.
It's hard to quantify, but the restaurant, which is entombed in the Fourth Street Garage and somewhat hard to see from the street, has a lively, big city feel, like a Las Vegas–ized Denny's. The dining is big and usually crowded. The flat-screen monitors above the bar play ball games, and the vivid, almost garish décor and lighting give it a glitzy appeal. It's filled with slice of downtown life—students, working stiffs, business types and a few shaggy punks.
For me, the strength of the restaurant is breakfast. San Jose may be the third largest city in the state, but when it comes to downtown breakfast options, the city has been in the minor leagues. Before Flames opened, if you'd put a gun to my head and demanded a downtown breakfast recommendation I might have blurted out La Peñita across the street from Metro's offices, or maybe one of the hotels, but I probably would have choked under the pressure and drawn a blank. And then I'd be dead. Now I'm ready. My answer: Flames!
The breakfast selection is huge, but it's thankfully broken down by category—benedicts, pancakes, omelettes, etc. I liked the New Orleans benedict ($8.95), two poached eggs covered with a spicy hollandaise and sautéed sausage and chile peppers. The English muffin was a bit soggy, though, and needed more time in the toaster. The downtown scramble ($9.50) is a standout, a fluffy mound of scrambled eggs with chorizo, avocado and jack cheese. The hash browns on the side are respectable, too. The Tampico scramble ($9.50) filled me up way past noon—scrambled eggs, chorizo, jack cheese and beans served on two corn tortillas.
Breakfasts taste even better with one of Flames' "eye openers" like the "south of the border" bloody Mary ($6.75), a spicy adult beverage with Sauza tequila and a bit of beer, too. The beef stick served with it was a bit much, though.
As you'd expect, Flames has plenty of classic sandwiches. I liked the "big tuna" ($8.95), a hefty tuna and cheese melt, and the Bronx sandwich ($9.95), corned beef and sauerkraut with thousand island dressing on rye.
Skip the appetizer sampler ($12.95), however. The collection of all things fried (chicken wings, onion strips, asparagus and calamari) was too much fried fare at once.
Any coffee shop has to make an honest burger, and Flames does. The half-pound western barbecue burger ($9.95) piles on a juicy patty of beef with barbecue sauce, cheddar cheese and bacon. A light but well toasted bun caps it off.
I confess I didn't have the stomach capacity to delve into Flames' many pasta, steak and seafood dishes, but they merit further exploration.
Aside from breakfasts, desserts are Flames' other strong suit. Made at their own off-site bakery, the lineup of cakes and pies is huge. And so are the desserts themselves. The Flintstone-size ($5.95) burnt almond chocolate cake is enough to feed four and leave them feeling full but happy. The same goes for the phone-book-thick wedge of mocha cheesecake ($5.50). The layer of mocha whipped cream is as thick as the dense cheesecake.
For something a bit lighter, the loukoumades ($5.50), square shaped Greek donuts, are light and crisp and delicious dipped in honey.
Although it's been open less than three months, Flames is a great addition to downtown dining that makes me wonder how we got along without it.
---
Flames Eatery and Bar
Address: 88 S. Fourth St., San Jose
Phone: 408.971.1960.
Hours: 7am–midnight daily.
Cuisine: Coffee shop.
Price Range: Most dishes $9–$15.
Send a letter to the editor about this story.