01.14.09
home | metro silicon valley index | movies | current reviews | dvd review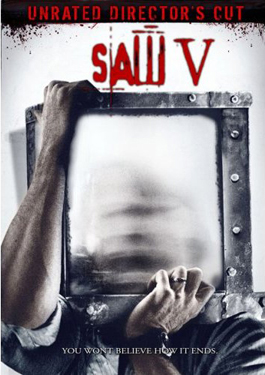 Saw V
One disc; Lionsgate; $29.95
Reviewed by Steve Palopoli
Many critics complain about viciousness and cruelty in the Saw films, but the real torture is the way they expect you to remember all the ridiculous plot details from movie to movie. Like most people watching Saw V are going to say, "Oh yeah, it's Agent Hoffman and Agent Strahm; I remember exactly what they were doing from when I watched the last film a year ago!" God help anybody who didn't watch Saw IV; the fifth installment is by far the most pointlessly convoluted and overplotted Saw film. In fact, it's almost as if director David Hackl (taking over from Darren Lynn Bousman, who opted to do the much stranger and more interesting Repo! The Genetic Opera) realized what a mess he had made, because the unrated version on the DVD is not so much a "director's cut" as a "director's rearrangement." A lot of scenes are shuffled, and various bits have been added and subtracted throughout (including extra gore). It's interesting to see how the editing changes the narrative, but I wouldn't say it helps the film much. Fans will enjoy the extras, with their five-minute examinations of how each Jigsaw trap was executed, more than the actual movie. But the special features that didn't show up, despite the fact that Hackl himself had promised them, are any alternate endings. That's too bad. The ads promised an ending "You won't believe," but the only thing you won't believe is how stupid the theatrical ending turned out to be.
Click Here to Talk About Movies at Metro's New Blog
Send a letter to the editor about this story.