01.14.09
home | metro silicon valley index | movies | current reviews | film review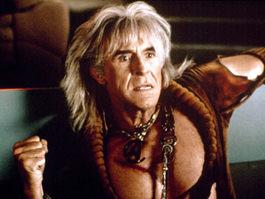 Montalban as Khan, his greatest role: From Pat Hinge to Ricardo Montalban, the year begins with notable passings in filmland
Ricardo Montalban Remembered
Richard von Busack recalls the man who would be Khan and others who stars who have passed in 2009
By Richard von Busack
Death, be not proud, for you are a fat greedy pig. This last week or two your eyes have been bigger than your belly, haven't they?
Taking Pat Hingle (Jan. 3) to start with: massive, old-school Irish steer, indispensable when heavies were required, happiest when doing someone wrong: sentencing Eastwood to the hanging tree in Hang 'Em High or using Anjelica Huston's hand as an ashtray in The Grifters.
Then, following Hingle, you took Bob Wilkins (Jan. 7), cool-breeze host of Creature Features and the Bay Area's beloved interlocutor of late-night cinema.
That should have been enough, but later that very same day you pounced on Ray Dennis Steckler, auteur of a number of films misidentified as "the worst ever made" though superior to three or four Hollywood releases during any given week. The beautifully shot The Incredibly Strange Creatures Who Stopped Living and Became Mixed-Up Zombies (1964) is one of the handsomest movies about L.A. in the 1960s. So many have tried to make this kind of movie; Steckler did it naturally, without precedent and without equal.
Then, Patrick McGoohan went (Jan. 13). Here was one of the handful of actors who could have been James Bond; Orson Welles called this American-born, Irish-bred actor "intimidating" and got him on the U.S. stage; then came the spy show Danger Man (Secret Agent in the United States). The Prisoner was, McGoohan claimed, his own idea--an existentialist parable filmed in the Welsh town of Portmeirion, Sir Clough Williams-Ellis' Fantasyland.
Then, Death, you finished up your evil pig-out by taking Ricardo Montalban (Jan. 14).
Ricardo Gonzalo Pedro Montalbán y Merino was, for years, best known as the ravishing voice extolling the "Corinthian leather" of a Chrysler Cordoba. Unless GM was processing its car seats in Greece, this "Corinthian" would apparently be an adjective. As the poet Horace wrote, not everyone is lucky enough to go to Corinth; the city was sort of the Fantasy Island of ancient Rome. Montalban's years at MGM need some rediscovery, particularly the John Sturges detective movie Mystery Street (1950). He also appeared in Border Incident (1949), one of Anthony Mann's film noirs.
There were three parts Montalban will be remembered for: the voice of Chrysler, the affable but not to be trifled with Mr. Roarke and, ultimately, the vengeful Khan Noonien Singh, on the royal hunt of James Tiberius Kirk in 1982's Star Trek: The Wrath of Khan (expanding on the character he played in a 1967 episode of the TV show). Before I recall that deathless role, here's Pauline Kael, writing about it 27 years ago:
"Montalban, who was born in Mexico in 1920, is one of those potentially major actors who never got the roles that might have made them movie stars. He appeared to have everything else--a marvelous camera face, the physique of a trained dancer, talent, a fine voice (he could even sing), warmth and great charm. Maybe the charm was a drawback--it may have made him seem too liable, a lightweight (though it didn't stop Charles Boyer). In Montalban's first English-language picture, MGM's Fiesta, in 1947, which featured Esther Williams as a matador, he danced with Cyd Charisse. ...
He brought conviction to every role that anyone could bring conviction to, but after almost 20 years in Hollywood, there he was in 1966 in The Singing Nun, and, with Lana again, in Madame X. ... The Wrath of Khan is the only validation he has ever had of his power to command the big screen."
Rolling his r's, and baring his handsome 60-year-old breast, here is your blood-questing alien. He apparently had some vengeful Sikh in his family tree, just like his literary forebear Capt. Nemo, peppering Kirk with Melville and Choderos de Laclos quotes as he chases the Enterprise. Montalban used everything he had: the theatrical magnetism, the polite Latin irony, the savory, colossal pleasure of an actor with a juicy role in his teeth. "Ah Kirk, my old friend, do you know the Klingon proverb that tells us that revenge is a dish best served cold? It is very cold in spacssse."
He was working until the end. Montalban was given computer-generated legs by Robert Rodriguez to act again in the Spy Kids movies after he'd been wheelchair bound by spinal trouble.
Montalban's name recalled that great ruined city in Oaxaca, with its pyramids and observatory, thriving 1,000 years before the Europeans came; Montalban's career survived the era of accent-and-serape parts; he lived to see 100 different styles of Latin actors and directors in the American cinema. He seemed quite deathless, and maybe it's because of this one role that one would prefer to think of him in the present tense. Death, shmeath.

Click Here to Talk About Movies at Metro's New Blog
Send a letter to the editor about this story.