01.14.09
home | metro silicon valley index | movies | current reviews | film review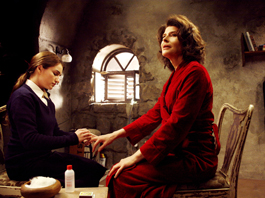 THE WOMAN IN RED: Fanny Ardant needs some spiritual healing in 'The Secrets.'
The Magic Mountain
'The Secrets' looks at cabala and spiritual seeking high in the Israeli mountains
By Richard von Busack
IT IS diverting to try to guess whether a director is staging extreme religious behavior because he himself is trying to walk closer with his Lord or he is saying to the audience, "I don't really believe in this stuff, either, but isn't it fascinating when people act this crazy?" You may have heard of a person wearing sackcloth and ashes, but likely you've never seen it done. The Secrets co-stars Fanny Ardant, living representation of all the precision and logique of French cinema. She plays Anouk, an ex-convict who, like Kristin Scott Thomas in I've Loved You So Long, just served 15 years for a mysterious murder of passion. Anouk, now dying of a double dose of heart disease and cancer, decides to go in for the burlap-wrapped mortification of the flesh to satisfy the wrath of He Who Is Not to Be Named. Director Avi Nesher (a longtime vet of the Israeli industry) keeps enough distance that we can watch this ritual without judging too much.
The real star of the movie, though, is Anouk's volunteer leader in this penance, a rabbi's daughter come to study at the Daat-Emet seminary in Israel's holy city of Safed. High in the mountains, this place is a hotbed of cabala and ecstatic Jewry. At night, the students play music and dance around bonfires to express their faith. Naomi (Ania Bukstein) has no mirth since her mother died slowly of cancer. She has gone back to school to put off her impending marriage to a priggish, sexist rabbinical student.
Many of the students at this religious center seem to be seeking what my friend Vera calls "a Mrs. Degree"—they're looking for husbands. A new arrival, the haughty, tense Lyonnaise/Israeli girl Michel (Michal Shtamler), has come to study. Soon, she and Naomi bond over the case of the destitute Anouk, abandoned by the local religious authorities as a damned soul whose crime is so dark that she will never find forgiveness.
Naomi goes to work on the redemption of this guilty woman, using everything from prayer to the aforementioned sackcloth to ritual bathing. Naomi searches for a tikkun—a method of healing suggested by some of the Talmudic and cabala texts she studies at school. With some wit, Nesher stages the more involved of the rituals during thunderstorms, to make it look like a witches' sabbath, although one tenderer ritual between two of the girls also takes place during a rainy evening. Girl power is a frightening thing.
Without going dumb, The Secrets deals with the aspect of the cabala that attracted Britney Spears; lots of women would like to be sorceresses, and The Secrets might appeal to them. Plus—in honor of cinema's age-old role as the enemy of fundamentalism and intolerance—Nesher shows the uglier side of the god-drunkeness of Safed.
In a logical last-minute twist, Naomi faces small-mindedness in the form of the inevitable prejudice against a girl who takes a different path from the one that leads to marriage and childbearing. The end of this movie isn't especially crowd-pleasing, but it has a peculiar integrity, reinforcing the strength of its mystical young heroine.

THE SECRETS (R; 120 min.), directed by Avi Nesher, written by Nesher and Hadar Galron, photographed by Michel Abramowizc and starring Fanny Ardant and Ania Bukstein, opens Jan. 16.
Click Here to Talk About Movies at Metro's New Blog
Send a letter to the editor about this story.