01.14.09
home | metro silicon valley index | columns | style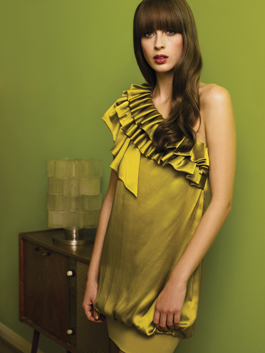 FRINGE BENEFITS: A chartreuse ruffle dress by Ted Baker has a single-shouldered neckline.
Style
Frill Seekers
By Jessica Fromm
RUFFLES aren't just for girlie girls anymore. With charming flourishes appearing on everything from frothy chiffon blouses to leather jackets, women are busting out ruffles big time this winter.
Flounces in an array of shapes and styles have been trendy for a few years now, but this holiday season they really seemed to billow into the mainstream. Everybody from Carolina Herrera to Old Navy has been carrying a variety of ruffled pieces, a trend that is sure to make its way onto pastel sundresses this spring.
The good news is that just about anybody can be a frill seeker. This trend looks good on a variety of sizes and shapes, as long as it is properly applied according to your personality and shape. Essentially scrunched-up and layered fabric, ruffles are a sure-fire way to pump up the volume.
If you're going for bubbly flounces on top, stay sleek on the bottom, and vice-versa. Frills add curves, so make sure to add a little extra visual oomph where you want to up the ante. Ruffles at the neckline give voluptuousness to a small bust; a tiered ruffle skirt bestows an extra va va voom to slim hips. Ruffles at the waist tend to look best on svelte girls, while those with apple and pear shapes should try to relegate them to the torso and above. Flounces farther up on the neck near the face have the potential to balance out a wider behind. Fortunately, the high-necked ruffle blouse that is so popular right now works great for this.
Make sure to steer clear of the Seinfeld puffy-shirt look though: the top itself should have a trim silhouette, with ruffles being the embellishment.
Opposites attract when it comes to fashion, so try a frilly and funk ensemble by mixing hard and soft details. An ultrafem dress with an exuberant amount of ruffles looks great when paired with a leather jacket or tailored blazer, or cinched at the waist with a wide leather belt.
While you can enjoy being a girl by flouncing around in draped bodices and gauzy sheers, the romance of ruffles can also extend into the workplace. For a more professional look, try "power ruffles" under a sharp blazer, paired with a tight pencil skirt or slacks. Crisply tailored pin-tucked ruffles running down businessy button-downs are great for the office.
Frills work well in moderation but if overdone they can end up looking swamped or overly theatrical. For example, if you have broad shoulders, heavy ruffling at the top will make you come across like a linebacker.
The No. 1 example of how not to wear ruffles was, I hate to say it, the monstrosity that the late Princess Diana wore on her wedding day. Now, I know it was 1981, but that is no excuse for the kilometers of crumpled silk, unflattering fit and bulky white shoulder ruffles that practically swallowed her alive.
Here are some examples on how to have some frilly fun:
Elizabeth and James, the Olsen Twins' couture label, is into ruffles in a big way. The detail was used heavily in their 2008 holiday collection, and their woven Aurora Dress boasts a flower ruffle detail on the chest. The frock is soft and voluminous, featuring yards of flattering and flowing silk chiffon, gathered at the top hem. The dress is available at Saks Fifth Avenue and www.shopbop.com for $475.
The sleeveless Dandy Vest, another Elizabeth and James product, mixes masculine sharp tailoring with a soft, feminine scarf. Silk ruffles circle the V-shaped neckline. It's $275 at intermixonline.com.
Available for $423 at www.bluefly.com, the Avery Ruffle Satchel by Treesje screams girlie to the max. With rows of glossy patent leather tiered ruffles on either side, this is the sort of purse that needs to be center stage.
The Ruffle Detail Dress by Ted Baker comes in a stunning, slinky chartreuse silk satin. A dramatic cluster of ruffles flutters across the dress's single-shouldered neckline. The dress's giving fit gathers at the bottom with a trendy banded hem. It retails for $295 at the Ted Baker store on Santana Row.
Another colorful Ted Baker offering is the Yeho Shirt, which comes in a cheerful mustard hue that will be everywhere this spring. Made from a polyester mix, it has modern zip detailing at the back and sells for $175.
Send a letter to the editor about this story.