01.14.08
home | metro silicon valley index | music & nightlife | band review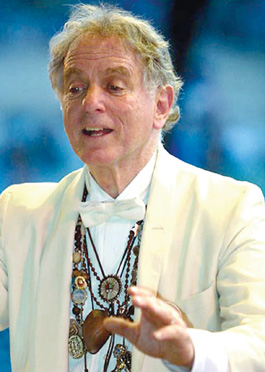 Photograph by Jim Dirden
GLOBE TROTTER:
Composer David Amram explores the sounds of world instruments in his pieces.
San Jose Symphony
By Michael S. Gant
IN THE 1940s, composer David Amram worked in construction in Los Gatos. In a neat bit of geographical synergy, years later, he hooked up with Beat author Jack Kerouac, whose friend Neal Cassady once lived in nearby Monte Sereno. Amram worked on the music that accompanies Robert Frank's film Pull My Daisy, a jazzy experimental film based on Kerouac's poem.
The connection makes it appropriate that Amram was chosen to write Symphony Silicon Valley's new commissioned piece, Three Songs, a Concerto for Piano and Orchestra. A multi-instrumentalist and serial collaborator, Amram is equally at home on the French horn, riffing with Dizzy Gillespie, and teaching school kids about strange world instruments like Afghan flutes. His new piece includes nods to Leonard Bernstein, classical sonatas and Indian ragas; local hero Jon Nakamatsu takes the piano part. The rest of the program, conducted by guest artist Paul Polivnick, features Haydn's Symphony no. 95 and Respighi's Feste Romane.
SYMPHONY SILICON VALLEY performs Jan. 15 and 17–18, Thursday at 7:30pm, Saturday at 8pm and Sunday at 8pm at the Center for the Performing Arts, 255 Almaden Blvd., San Jose. Tickets are $39–$75. (408.286.2600)
Send a letter to the editor about this story.