01.16.08
home | metro silicon valley index | columns | silicon alleys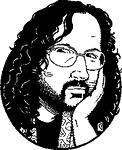 Silicon Alleys
Madison Avenue
By Gary Singh
THE CIRCUS that is the Little Saigon debate isn't going away, and people are still congregating in front of City Hall every Tuesday to protest San Jose City Councilmember Madison Nguyen because she and others voted to rename a part of Story Road "Saigon Business District" instead of "Little Saigon."
Since the entire scenario is bordering on surreal, I have to suggest a solution that will satisfy everyone: just rename the street Madison Avenue.
We're talking about the stretch of Story Road that runs from Highway 101 all the way to Senter Road, which is a grand esplanade if ever there was one, and since this area has a baffling tradition of naming streets after politicians who are still alive, it shouldn't be a problem.
But in order to reassure myself that such a progressive idea makes sense, I conjured up the urban blight exploration junkie once again and walked the entire length of the area in question, beginning at Story and Via Ferrari, which is just west of 101. A gorgeous industrial grade-A recycling plant began the journey.
The next breeze-by had to be the Story Road Animal Hospital, a neat-looking tiny hamlet of a building. It's old-school architecture at its jazziest. The yellow sign out on the sidewalk is one of those archaic traditional signs that just begs to be photographed. It stands there like royalty, with the hospital sign perpendicular to the slanting vertical pole. A black dog is standing on its hind legs, trying to climb the pole and get to a cat that sits on top of it. Many folks have documented and/or photographed old-school San Jose signs, but this one often gets lost among the nearby Asian shopping malls, empty retail buildings and graffiti-laden placards. It rules. And the building has paw imprints painted all along the edge of the roof.
As the journey proceeds westward even further, the junkie then comes to the crossroads of Story and McLaughlin—one of those legendary congested East Side intersections where at least five cars run the red light in every direction to avoid getting stuck in a second or third cycle. And don't even get me started on the clowns who consistently try and make U-turns on McLaughlin when there's obviously not enough room. You can stand there and count the people who end up driving over the curb.
There are good things about this intersection, though. We have three liquor stores, a Save Mart, a Burger King, a bunch of killer Vietnamese and Mexican stuff and a barber shop right next to a place that says, "Cleaners. Alterations. Libreria Christiana." I guess you can get both your suit tailored and your Biblical fix in the same place.
But the journey couldn't stop there. Continuing westward, one finds the Grand Century Shopping Mall, which is Vietnam central—an awesome place to hang out. The food court is a thoroughly rocking place. Right across the street, one finds the now-ubiquitous Lee's Sandwich shop with a noble, imposing sign that says, "Got hot baguette."
And one couldn't possibly traverse this length of road without mentioning the KLIV/KRTY building that sits right in the middle of it all. This recently replaced what used to be a decades-old landmark radio building. You can look up the photos.
As the urban blight exploration junkie reaches the end of this now hotly contested stretch of Story Road, he then passes the Taco Bell at Roberts Avenue and crosses to a green meadow which is basically a fenced-off landfill on the other side of the creek from the sheep at the Happy Hollow Zoo. Man, what a stretch of road. The entire thing is a grand, majestic, all-inclusive, distinguished promenade worthy of being renamed Madison Avenue. This is the future of San Jose, right here and now.
Contact Gary Singh or send a letter to the editor about this story.