01.16.08
home | metro silicon valley index | movies | current reviews | film review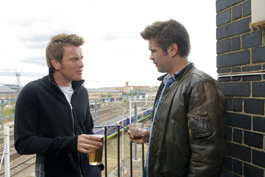 PLOTTERS: Ewan McGregor (left) and Colin Ferrell think immoral thoughts in Woody Allen's 'Cassandra's Dream.'
Guilt Trip
Woody Allen's 'Cassandra's Dream' doesn't have the courage of its film noir convictions
By Richard von Busack
THE NEWEST Woody Allen movie on the subject of crime and the unpunished raises a troubling question: Is he trying to confess to a murder he committed to advance his career? Are we, his fans, supposed to sweat it out of him? It may also be that Cassandra's Dream, his stodgy meditation on the guilt of all successful humans—the winners in this, our rat race—is worth considering seriously. But when Allen stages the action with little interest and little comedy, it's no surprise that the film seems as deep as a teacup.
This attenuated London-set drama concerns a pair of brothers. We seen them purchasing a boat with their winnings from the dog track. They seem like an unlikely pair to make a luxury purchase. Scruffy Terry (Colin Farrell in another one of his staggering-through-life parts) is a garage mechanic with a serious gambling problem; smooth Ian (Ewan McGregor) works in the family restaurant while dreaming of a score big enough to get him out of the U.K. and into California. This score seems unlikely to materialize. Jon Benfield and Clare Higgins, as the mother and father of the family, are running the eatery slowly into the ground. It is one of those places that are never quite unsuccessful enough to fail outright.
Ian's above-his-station ideas lead him to borrow luxury cars from Terry's garage. During a jaunt in the country at the wheel of a high-end sports car, Terry encounters danger in the form of a woman: Angela (Hayley Atwell), a climbing, amoral avant-garde actress. Her presence gives Ian more fuel to get out from under the family business. And then, like a bad fairy, their rich Uncle Howard arrives; he's played by Tom Wilkinson, the one actor who can do something with these narrow bundles of qualities that Allen calls characters.
Howard owns a chain of successful dermatology clinics in China. But he has cut some unspecified corners, since a whistleblower is about to expose his business practices. Under a tree in a park, in the rain, the uncle calls in a large favor from his nephews in return for the little ones he has been doing for his family over the years. He would like them to kill the informer.
This moral drama is all fatalism; the closest thing to a joke in the film is the line "Like the poet says, the only ship certain to come in has black sails." Such a poet, whoever he might be, had a dashing way of looking at life. But Cassandra's Dream is merely fretful and guilty. Allen amplifies the cautionary over the adventurous.
As a moral crime drama, Cassandra's Dream is closer to film noir than anything else. Grounds exist for looking at the writing and directing of film noir as a very Jewish kind of art, carried out by those who evaded the Holocaust but not the survivor's guilt.
Certainly, the Holocaust is a central obsession of Allen's. And there is an older tradition for this kind of story; as the humorist Sam Levenson noted, the essential moral of Yiddish theater was "Money is not for poor people"—which also could be the motto for film noir.
Allen's antiseptic handling of the possible murder and the aftermath elides the violence and the payoff, but both are essential to the flavor of noir. This is a film that's hardly going to reach anyone who ever decided upon murder for money. The deracinated British dialogue and the hasty-looking ending make Cassandra's Dream look like an ambitious species of a Poverty Row melodrama. Watching it is like having that boring speculative conversation about whether one would push a button to receive a fortune if there was someone on the other side of the world who would die.
Back in Crimes and Misdemeanors, Allen provided a comic undertone to these lamentations about the wicked prospering. Here, the dim hesitant performances match the gloom that cinematographer Vilmos Zsigmond brings to the London cityscapes. The only pulse comes from Philip Glass' soundtrack.
Since Allen tries to avail himself of some basic film noir questions, I might as well get a plug in for the Noir City film festival, running Jan. 25–Feb. 3 in San Francisco (see www.noircity.com for details). Former Metro contributor Eddie Mueller of Alameda has organized a sťance of "10 Days, 20 Films, No Happy Endings!" And 10 of these films are not on DVD. Conflict, from 1945, is a kind of B-grade Vertigo—Allen-icon Humphrey Bogart celebrates his wedding anniversary by knocking off his shrewish wife (Rose Hobart), all the better to get his hands on her sis (Alexis Smith).
Bernard Herrmann's famous score for Hangover Square is the model Steven Sondheim used for his Sweeney Todd. Face Behind the Mask—another film not available on DVD—has Peter Lorre as a burnt-beyond-recognition immigrant who turns to crime. A 35 mm print of Night Has a Thousand Eyes casts Edward G. Robinson as a seer whose ability to peer into the future has ruined his life. A male Cassandra, in short—and one whose predictions are of more interest than the foretold doom in Woody Allen's latest.

CASSANDRA'S DREAM (PG-13; 108 min.), directed and written by Woody Allen, photographed by Vilmos Zsigmond and starring Ewan McGregor and Colin Farrell, opens Jan. 18 at selected theaters.
Send a letter to the editor about this story.