01.16.08
home | metro silicon valley index | movies | current reviews | film review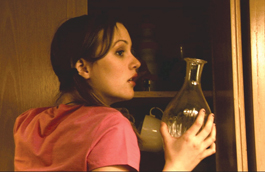 GIRL TROUBLE: Leighton Meester plays a daughter with a nose for mischief in 'Flourish.'
Flourishing
Cinequest screens Kevin Palys' baby-sitter thriller
By Richard von Busack
PLUCKED, SLANTED EYEBROWS look through librarian glasses. The honey-blonde hair is pulled back in a bun. In front of a video camera, as well as an interviewer whose patience is waning, Gabrielle, a.k.a. Gaby (Jennifer Morrison of TV's House), tries to give her account of a night where everything went wrong. Her big witchy grin is meant to be ingratiating. Like everything else about the girl, it's just spooky. Some nasty scars snake up from the nape of her neck. Some even nastier holes start widening in her story; by the time the film Flourish, is over, the holes have assumed Grand Canyon width.
Basically, it goes like so: even though Gaby is flamboyantly weird and given to unconscious malapropisms—as when she tries to describe "what probabilistically happened"—she works as a proofreader and a tutor. She gets an emergency call from one former student's mom begging her to come in for an overnight baby-sitting gig. This, despite the fact that daughter Lucy (Leighton Meester, currently aboard the TV hit Gossip Girl) is nobody's baby now. She wears an outfit cut practically to the breastbone and a fresh hickey on her neck. Meester, a little old to play the brat, has her hair done up in pigtails, the old porno-movie trick to take a few years off an actress.Gaby loathes baby-sitting, but she has to take the job; she just lost her car to a car thief. The car in question has a destiny all its own: the thief, a knucklehead named Carter (Ian Brennan) is plotting to kidnap Lucille's father's mistress, Mary. In addition to being Gabrielle's landlady, Mary (Victoria Kelleher) is also an industrial spy with an envelope full of some important contraband information.
Director Kevin Palys' low-budget thriller has odd comedic touches, including Ray's monologue about what's off-limits in her house; later, one of the best gags, about the word "horseplay," is delivered so quick it's hardly noticed. Watching Flourish and trying to decipher its ins, outs and whathaveyous, one comes to the conclusion that Palys is a writer first and a director second. On a director's interview on the DVD of Flourish, Palys justifies the long shots and sometimes static camera on the grounds that "there are no dolly shots in your dreams." No, but there is a taste for the forbidden in your dreams, and this novice director shies away from the sensational parts of a story that boasts kidnapping, murder and forbidden secrets. As in Atonement, so much of what goes on in Flourish seems to be of no more importance than words on paper.
Still, Palys benefits from a good cast—the reliable character actor Daniel Roebuck is in it, too, as a philandering father—and the bewildering ending is clearly the work of a director who longs to go against the grain. Palys and Leighton Meester will be on hand for the gala first-night screening of this Cinequest-branded film on Thursday, Jan. 17, at 7:30pm, as part of the reopening ceremonies for Camera 3 in San Jose. Watch this space later this year for news on a series of revived Cinequest hits from previous festivals; this year's Cinequest runs Feb. 27–March 9.

FLOURISH (Unrated; 95 min.), directed and written by Kevin Palys, photographed by Maximilian Gutierrez and starring Jennifer Morrison and Leighton Meester, plays Jan. 17 at 7:30pm and Jan. 18–23 at 7:30 and 9:30pm at Camera 3, 288 S. First St., San Jose. (See www.cinequest.org for details.)
Send a letter to the editor about this story.