01.16.08
home | metro silicon valley index | the arts | stage | review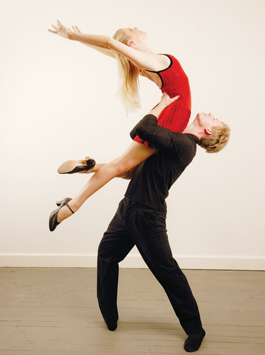 Photograph by Dave Lepori
ALOFT: Haley Henderson lifts an ecstatic Easton Smith in 'The Glass Menagerie.'
Heart of Glass
Margaret Wingrove reimagines Tennessee Williams' 'Glass Menagerie' as a full-length dance
By Marianne Messina
THE GLASS MENAGERIE' sheds some weight when the Margaret Wingrove Dance Company relieves Tennessee Williams of his words and authorial judgments. Tom (danced by Brendan Barthel) prepares to leave his doting mother, Amanda (Annette Williams), and his shy, "slightly crippled," unmarried sister, Laura (Andrea Moody), and emotional entanglements play out as moving energies. The relationship of mother and son, for instance, unfolds in movement fraught with hugs and tugs. Across the room, the reclusive Laura, seated before her table of glass figurines, is both affected by their movement and cushioned from it in decelerated motion.
Scenic designer John Dragonoff has bounded Laura's room/retreat by a square of lush carpet, making its furnishings relatively more elegant—richer wood and rounder lines. Later in a trio, the family dynamics appear to revolve around Laura's game leg as mother and brother alternate in supporting it. In one interaction, Laura seems to use the leg as a barrier against her mother's carping on the need to circulate, to hunt for a husband.
Atop a metal stepladder passing for an urban fire escape, Tom reads us the play's most poetic parts, ostensibly writing a journal. "I am using this character [Laura's gentleman caller Jim, danced by Matt Kovac] also as a symbol ... the long-delayed something that we wait for." In high school, Tom tells us, "Laura had been as unobtrusive as he [Jim] had been astonishing." Wingrove's production embodies the Jim mystique. Laura dreams of an astonishing unicorn (Catharine Grow). Outfitted in sparkling white, Grow creates a memorable unicorn, its horsy steps, its striking shudders and halts. In the dream, Laura merges with the unicorn and by the end of the show, she has taken on characteristics of her dream moves—slow, airy arms that float and aspire.
"Across the alley," Tom tells us, the Paradise Dance Hall serves as his window on a grand world he feels he's missing. Wingrove puts this idealized grandeur into a stunning showcase duet with Haley Henderson, a streak of red, black and glitter, and Easton Smith. They tango; they romance; Cirque du Soleil music enchants with its myriad personalities and tensions, sweeping us up as a whirling Smith power-lifts Henderson, supporting those statuesque splits, her long legs in black fishnets jutting into space like spires. With incredible prowess, Smith lowers Henderson, head down, into a handstand; later, prone, he appears to lift Henderson on top of him with his feet around hers—an awed audience cheered. They also appreciated Wingrove's capricious humor, laughing when Amanda showed up for the gentleman caller in her youthful peach taffeta dress.
The movements of Seth Parker's wonderful whiteface mime set him in another astonishing world apart. His lips a painted pucker, he twirls in dizzying pirouettes, yet lightly, like a tumbleweed shrugging c'est la vie at the wind. Even so, his painted expression resembles compassion. Edith Piaf's incomparable voice uplifts his dance as accordions lighten her odes to l'amour. Richard Larsen's skillful lighting deserves credit for strategic zoned spots, simulated mirror balls and glowing blues that suspend Wingrove's powerful silences. This Glass Menagerie is lucid and trim, a perfect symphony of elements ever tapping at unconscious doors.
Send a letter to the editor about this story.