January 17-23, 2007
home | metro silicon valley index | music & nightlife | concert review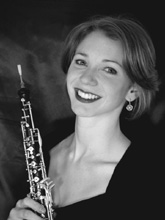 Vaulting Verdi: Oboist Jessica Pearlman excited the audience with a performance of Pasculli's variations on Verdi.
Showing Off
The San Jose Chamber Orchestra highlighted premieres and young players in bravura concert
By Scott MacClelland
EVEN WITH assistant conductor Anthony Quartuccio running the show, Sunday's San Jose Chamber Orchestra program was the very model of music director Barbara Day Turner's vision. It had it all: three world premieres in three completely different styles, with their composers in attendance, two talented young soloists, two obscure works found amid the traditional repertoire and a showcase for SJCO's student string players. No wonder the full-house audience at Le Petit Trianon included a large complement of music professionals from around the Bay Area. Doctor Turner's clinic has its finger on the pulse.
Cellist Mitchell Wyman, an accomplished student of Andor Toth and George Neikrug, played Remanence for cello and strings, based on an original for cello and digital sound effects by his father, Dan Wyman, an L.A.-based composer of mostly film and television music. The title, which closely resembles "remnants," refers to the print-through on old magnetic tape recordings of loud passages to the adjacent layers of tape as they wrap around the reel. The strings in the case made a hair-raising imitation of cinematic sound effects, while the soloist, using portamento, glissando, harmonics and pizzicato, played the eight-minute movement with great flair, as if from a concerto.
Matador, by Scott Perry, a composition student at San Jose State University, paints a programmatic tone picture in six minutes of a bullfight, with pictorial imagery from start to finish punctuated by violin and cello solos. The strings flashed with fanfares and other ceremonial effects attendant to a corrida. Anica Galindo, a scholarship student at Santa Clara University in film and television music, spent 12 minutes on her lushly scored A Wintry Vale, based on a poem of her own. The poem and its narrative explanation proved superfluous, even irrelevant, to the music, which sounded like a cross between John Barry's Out of Africa and Basil Poledouris' Lonesome Dove, and as deftly handled in its tonal gorgeousness.
The extraordinary oboist Jessica Pearlman, a Bay Area native currently finishing her studies at Yale, dazzled through the overlapping melodies and 32nd-note runs of a bravura show-off piece by Antonio Pasculli based on tunes from Verdi's I Vespri Siciliani. The barrage of acclamation that followed her tour de force made her blush, which only enhanced her winsome charms. Quartuccio opened his program with the early (1877, the same time frame as Brahms' First and Second Symphonies) and portentous Suite for Strings by Leo Janácek, which only hints at the greatness the composer would achieve late in life. (As a program-opener, it made vivid reminder of the generous acoustics of this concert jewel, just steps away from the new City Hall. Aren't we glad it was saved from the wrecking ball!)
For Vaughan Williams' Concerto Grosso for Strings, a late work (1950) cleverly designed for varying skill levels among the players, a dozen students in the SJCO string school joined their professional colleagues. The witty suite of dance-style movements even allows for some ad-lib in case beginners get lost. No beginners among these kids, but abilities to make their teachers proud. For example, they all used the full length of their bows. Even some "pros" never learn that.
Send a letter to the editor about this story.