01.21.09
home | metro silicon valley index | columns | silicon alleys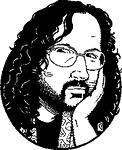 Silicon Alleys
Excursion Experts
By Gary Singh
MY VOTE for the best apocalyptic, post-suburban-wasteland photo book of 2008 goes hands down to a glossy hardback aptly titled Frezno from Process Books. Photographer Tony Stamolis grew up in Fresno and spent six years chronicling the dreadful, doped-out, deranged and disregarded underbelly of the city whose airport code is FAT.
Two shirtless heavy-metal dudes grace the cover, each with his face painted in what looks like a botched attempt at Gene Simmons of KISS. A landscape of endless suburban electrical towers and power lines appears behind them, an image not unlike many parts of south San Jose, to be honest. Inside the book, one finds low-quality images of empty pill boxes, beat-up shopping carts discarded on the side of the road, a dude pointing a shotgun at the camera and several nude shots, including one of a woman wearing nothing but a baseball hat that says Fresno in Old-English-style letters and another leg shot of a woman with a tattoo on her ankle that says Mrs Concepcion. Especially noteworthy are the photos of an old lady ironing her American flag in her scant kitchen and the side of a dilapidated building that sells both donuts and guns. You could rename the whole thing Fresno Through the Back Door.
A New York City native since 1987, after he bailed on Fresno as a teenager, Stamolis' work has appeared in Rolling Stone and Maxim, and this project is his homecoming. He claims that these poignant slices from Fresno's detritus do not reflect a hatred of his hometown. "It's not my job to please people," he told the Fresno Bee last month. "My job is to take the pictures that I see. Some people will feel that I am portraying the town unfairly, but the irony is, I really like Fresno. In fact, I find it incredibly beautiful, and I think the book turned out beautifully."
Fair enough. You just have to think photographs of graffiti-covered train cars, bags of mushrooms, empty swimming pools and hydrogen storage facilities are beautiful. Even more, you can just feel the overwhelming, dry insipid heat of Fresno in most of these pictures. Nobody looks happy, everyone's bored and most people have their shirts off, women included.
"I am not trying to promote tourism," said Stamolis in the Bee article. "I am working on a personal project. If you want pretty pictures of River Park, I am not your guy."
But Fresno ain't all junk, and if you want to know more about the better side of the city, including River Park, the timing is perfect, as this weekend, members of the Fresno Convention & Visitor's Bureau will be among those exhibiting at the Bay Area Travel Show at the Santa Clara Convention Center.
The shebang is the annual two-day hoedown where representatives of travel and tourism organizations display information for anyone who wants to learn. The list of more than 100 exhibitors includes the Taiwan Visitors Association, Travel Alberta, Wild Planet Adventures, Israel Ministry of Tourism, as well as the Convention & Visitors Bureaus of Stockton, Temecula Valley, Lodi and Fairfield. Travel agents, professionals and writers comprise a good portion of the attendees, but anyone from the general public can show up. Especially rocking are the lectures. Here are some samples: Rick Steves of the Travel Channel and PBS fame—the hero who penned all those Europe Through the Back Door books—will give a talk titled "Travel as a Political Act" and will sign autographs afterward. KGO Radio's travel and leisure guy John Hamilton will offer tips, suggestions and deals to help folks make the most of their travel budgets. Pauline Frommer, founder of the Pauline Frommer guides—the budget versions of the Frommer line—will also speak. Her seminar, "Travel in Troubled Times," will focus on how to stretch travel dollars in these distressed economic times.
If you're like me, you like to travel no matter what, so join me at the event. After that, I'm headed for Fresno, and I intend to get political about it.
Contact Gary Singh or send a letter to the editor about this story.