01.21.09
home | metro silicon valley index | the arts | visual arts | review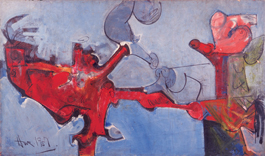 Collection of the San Jose Museum of Art/photography by Douglas Sandberg
FREE FLIGHT: Hassel Smith's 1957 'Bird Lover' shows off the improvisational side of West Coast Abstract Expressionism.
Bay Area Seers
Two shows at the San Jose Museum of Art look at uniquely West Coast visions
By Michael S. Gant
FORGING a regional artistic identity can be difficult when the shadow of New York looms over the critical landscape. Two current shows at the San Jose Museum of Art help counterbalance the shibboleth that Manhattan's art is America's art.
A strong selection of paintings from the museum's own collection (or on loan), titled "Culture of Spontaneity," curated by Susan Landauer, argues on behalf of a West Coast version of Abstract Expressionism that was not in thrall to Pollock and De Kooning. Starting in the late 1940s, artists like Frank Lobdell, Hassel Smith and others created large abstract canvases that transcended representation and overt symbolism.
The artists in the show were associated with the California School of Fine Arts in San Francisco, where many World War II vets were able to study thanks to the GI Bill. As the show's introductory note explains, these artists wanted to find an adequate response to the death and destruction of the war. For some, abstract art offered a kind of universal language that could heal the divisiveness of the recent past.
That visual language drew from the burgeoning West Coast Beat and jazz culture as artists started to improvise in the manner of musicians. Hassel Smith's wonderful Bird Lover (1957), perhaps named with a nod to Charlie "Bird" Parker, mixes loose, blobby red shapes with bulbous, vaguely genital forms rapidly sketched in black lines. Elmer Bischoff's 1952 Untitled consists of jangly, almost cartoonlike squiggles and drunken, zigzaggy polygons in bright yellows and blues.
Other artists in the show seem to be still wracked with anxiety about the hot war past and the cold war coming. Edward Corbett's Untitled (Black Painting) from 1950 confronts us with a fury of black pigment expanding to engulf a gray background. Something of the same dire foreboding could be seen in the film noirs of the period, which featured dark streets inhabited by ex-soldiers uncertain of their fate in a postwar world.
James Kelly's Last Days of Dylan Thomas (1953) roils with daubs and streaks of white paint fighting to be seen in a storm of blackness. The wall label mentions "A Child's Christmas in Wales," likening the white passages to snow flurries, but the painting puts me more in mind of another Thomas poem, "Do Not Go Gentle Into That Good Night," with its admonition to "rage, rage against the dying of the light."
Wilfried Satty, born in Germany, came to the Bay Area in the 1960s, after the flowering of the Abstract Expressionist movement but in time for the ferment of the counterculture. Working in the tradition of visionary scissors-and-paste artists like Max Ernst and Jess, Satty plundered 19th-century books and other printed ephemera. His intricate collages are worth a detour to the museum's downstairs gallery.
Starting in the 1970s, Satty concentrated on fashioning his own surreal history of the Gold Rush era. At first, his illustrations look like factual records of events like fires and saloon brawls, but Satty often presents jarring clashes of scale by pasting large heads on small bodies or by filling a sky with an unexpected floating creature.
One mountainous vista full of miners and other fortune seekers is presided over by a gigantic crowing cock, perhaps announcing the birth of a new empire. A vignette of a sailing ship is almost engulfed by a butterfly as big as Mothra. Satty's protean paste-ups look a lot like the animated collages of experimental filmmaker Lawrence Jordan, who taught in San Francisco in the same period.
Satty labored for years on his Gold Rush chronicle, pairing his collages with excerpts from wide-eyed firsthand accounts by early visitors to California. The San Jose show has only a small selection (20 pieces) of the work, but they whet the appetite for the whole project. Luckily, editor Walter Medeiros has finished the opus, and Regent Press of Berkeley has recently published it under the title Visions of Frisco.
CULTURE OF SPONTANEITY runs through July 5 and WILFRIED SATTY runs through March 22 at the San Jose Museum of Art, 110 S. Market St., San Jose. Open 11am–5pm Tuesday–Sunday. (408.271.6840)
Send a letter to the editor about this story.