01.21.09
home | metro silicon valley index | silicon valley restaurants | review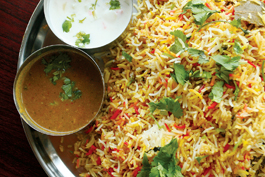 Photograph by Felipe Buitrago
RICE TREAT: Cupertino Bakery's Indian menu includes biryani with lamb.
Sugar and Spice
Forget the name—Cupertino Bakery is really an Indian restaurant in disguise
By Stett Holbrook
I HAVE DRIVEN by Cupertino Bakery on De Anza Boulevard hundreds of times and always thought it was just a bakery. Something about the word "bakery," I guess. But it has a secret identity. Yes, you can get a SpongeBob birthday cake made here or a slice of tiramisu, but Cupertino Bakery is also a great South Indian restaurant that specializes in dosa and utthappam, savory and spicy crepes and pancakes.
Like Milpitas, Cupertino now has a majority Asian population, a demographic fact that has been driven of late by the city's surging South Asian population. You wouldn't know it by its generic name, but Cupertino Bakery is one of the city's standout Indian restaurants and competes with the better-known South Indian restaurants in Santa Clara and Sunnyvale on El Camino Real. It shares shopping center space with an Indian grocery and a Bollywood video store, making it one of the city's most visible outposts of Indian culture.
Unlike many of Silicon Valley's top South Indian restaurants, Cupertino Bakery isn't vegetarian. The dosa and utthappam are available with chicken and mutton. The Chettinad chicken dosa ($7.99) is great—three crepes griddled a beautiful golden brown and filled with a spicy chicken mixture. Chettinad is a region in the southern Indian state of Tamil Nadu known for its spicy food, and this dish delivers.
The utthappam is pastier than other, lighter versions I've had, but it is still quite good and hugely filling, giving the size of the portions. Gobi Chettinad utthappam ($6.99) is a good choice, a big griddlecake made from lentil and rice flour scattered with a spicy vegetable mixture in which cauliflower plays the starring role. As in the norm, it's served with sambar, a spicy and brothy vegetable stew, and a cooling coconut chutney on the side.
Cupertino Bakery also makes some great flat breads, chapati and paratha. The chapati mutton salna ($7.99) is particularly good and arrives with a small bowl of a creamy and spicy mutton stew in which to dunk griddle-crisped bread.
At lunch, there's a generous buffet that includes a freshly made plain or onion dosa for $7.99. Best of the lineup on my visit was the hirayali chicken, chunks of chicken legs aswim in a dark and spicy curry infused with spinach and mint. I'm frightened of lima beans because of bad childhood experiences, but the oopu lima masala, a spicy mix of rice and small lima beans, offered redemption for the much-abused legume.
Although it looks like a Day-Glo yellow polenta, the pineapple kesari is quite good, a pasty dessert made with semolina flour, pineapple, cashews and clarified butter. This being a restaurant with a split personality, the buffet also offers several slices of layer cake and meringue cookies for dessert.
In addition to the dosa and uthappam, the biryani is another standout dish. The spicy rice dish is cooked on dum, meaning it's cooked over flames in an open pot instead of being baked like other versions. The chicken biryani ($7.99) is quite good. The long, basmati rice has the pop and crunch of cardamom, fennel and black mustard seed followed by a mellow, warming spiciness. Chicken breast meat is susceptible to drying out in biryani, but here it's moist and flavorful.
Cupertino Bakery offers the typical mango lassi and sweet lassi ($1.99), which are good, but I was intrigued by the masala buttermilk ($1.99), a yogurty drink sprinkled with black mustard seeds, curry leaves and whole dried red chile pepper I've never seen on a menu before. It's refreshing and delicious.
Given the quality of the Indian food at Cupertino Bakery, I'd recommend a name change to better highlight the good food within. But in the meantime, you know now the secret hidden within.
---
Cupertino Bakery
Address: 102521 S. De Anza Blvd., Cupertino.
Phone: 408.517.9000.
Hours: 11:30am–9:30pm daily, but weekdays kitchen closes 2:30–5:30pm.
Cuisine: South Indian.
Price Range: Most dishes are $5–$8.
Web: www.cupertinobakery.com.
Send a letter to the editor about this story.