01.21.09
home | metro silicon valley index | movies | current reviews | dvd review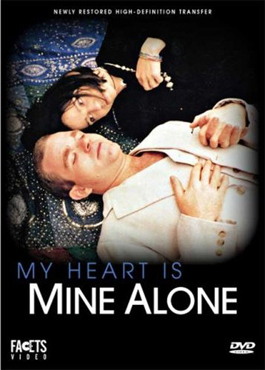 My Heart Is Mine Alone
One disc; Facets; $26.99
Reviewed by Richard von Busack
Helma Sanders-Brahms' 1997 biopic of an Expressionist poet, Else Lasker-Schüler, whose work is resistant to translation; even this film's striking German title, Mein Herz—Niemandem! demonstrates the difference between the original's force and the fusty, slightly woman's-picturish English title. Using documentary stock footage and stage sets instead of the usual re-creations, Sanders-Brahms charts out this pioneering poet's life and work. Lasker-Schüler was a friend of artists in the Blue Rider circle and of Chagall and Kandinsky.
The film zeroes in on one of her many affairs, with the writer and physician (and Nazi) Gottfried Benn. The contrast of Jewish pride and going-along-to-get-along cowardice is aided by the casting: as Benn, Cornelius Obonya's jutting jaw, broad skull and look of barely smothered neurosis is what you see in George Grosz's drawings of Prussians.
Lena Stolze plays the female poet, and she could have played a Nazi resister in her sleep (as she almost does in the decadent, somnambulistic love scenes). Stolze is the two-time portrayer of heroine Sophie Scholl, and she also starred in 1990's The Nasty Girl. Dark, pocket-size and intense, Stolze has the magnetism to prove why men thought of Lasker-Schüler as an Expressionist vampire—she's even called "a queen of the night" at one point. Unfortunately, poetry recitals—the striking of poses and uttering of pronouncements—never look quite right in the cinema. And the beatnik-jazz accompaniment to the readings seems anachronistic. Sanders-Brahms, a director better known in Germany than in the United States, does re-create a seemingly unbelievable story of attracted opposites. She reminds us—despite The Reader's ardent culture-vulturism—that Nazism and modernism shared a common ancestor, just as apes and men did.
No extras on the DVD, but this is part of a Facets series releasing some four other films by Sanders-Brahms, including Germany, Pale Mother and Under the Pavement Lies the Strand about the '68 insurrection in Paris. This motto, using the Britishism "strand" for beach, refers to the fact that Parisian street fighters found golden beach sand when they pried up the cobblestones to use as weapons against the police.
Click Here to Talk About Movies at Metro's New Blog
Send a letter to the editor about this story.