01.21.09
home | metro silicon valley index | movies | current reviews | film review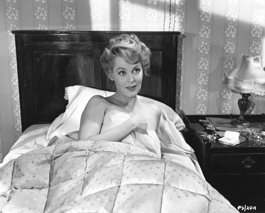 DEADLY DAHL: Arlene Dahl is as 'Wicked as They Come.'
Tramp Art
Noir City brings the best of Hollywood's bad girls back to the big screen
By Richard von Busack
SMELL THAT? It's the smell of sin and corruption, of cordite and the cheap perfume of high-heeled tramps, the reek of rye whiskey and the Brasso fumes emanating from the polish on the brass knuckles just about to punch you right where it counts. Noir City 7, running Jan. 23–Feb. 1, brings back the cinematic era of hooligans and harlots and the meek Elmer Fudds they both ate for breakfast. Twenty-two noirs—crime dramas and back-lot melos alike—represent the era. Well-known celebrations of bad behavior include The Killers and The Sweet Smell of Success, and big-shot directors like Billy Wilder (Ace in the Hole) and Fritz Lang. Lang's Beyond a Reasonable Doubt is on tap just as it has been remade by Peter Hyams despite the fact that it was made fine the first time around.
But the most obscure films are the ones that make this series such an annual treat. Wicked as They Come (1956, shows Jan. 24) is based on former CSU Northridge prof Bill Ballinger's novel Portrait in Smoke. English director Ken Hughes adds some vinegar to the story of a woman's 94-minute-long progress from a Tenth Avenue slum to Madame Guillotine's waiting room. Rigging a bathing beauty contest, with the help of a chumpington who runs a weekly newspaper, Kathy (Arlene Dahl) flies off to England where the men are more malleable. "You've got a kink!" this ashcan version of Becky Sharpe is told. This doesn't stop her; she helps herself to a Ralph Fiennes–like creep of a society photographer, and her boss and then his boss's boss after that.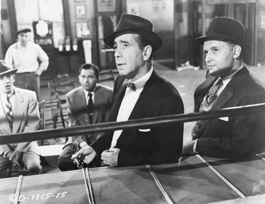 RING MASTERS: Humphrey Bogart and Rod Steiger star in 'The Harder They Fall.'
Dahl has the armature for a man killer; she's been heavily waved at some beauty parlor, but stray hairs spring out of her head like loose screws. She has the old-young face of a sex kitten gone feral; a wicked beauty spot accentuates the downturned slope of the mouth. "Girls like me don't usually get proposals, only propositions!" she quips. Wicked as They Come is double-billed with another Dahl film from that same year, Slightly Scarlet, the screen adaptation of James M. Cain's Love's Lovely Counterfeit. The ads screamed, "With Brains, Bullets and Women, He Fought His Way to the Bottom!" The "he" is John Payne; the tightly skirted bottom belongs to Rhonda Fleming. This John Alton–shot RKO zircon is in SuperScope and Technicolor. Ms. Dahl, familiar from her demure TV game show-work, will be coming to the stage to answer some questions, so look out. With any luck, the South Bay can convince Noir City to set up some auxiliary screenings in Silicon Valley. (Read more at www.metroactive.com online.)

NOIR CITY 7 runs Jan. 23–Feb. 1 at the Castro Theatre in Santa Francisco. See www.noircity.com for schedule info.
Noir City In Depth
In addition to the double-dose of Arlene Dahl, here's the rest of the schedule for Noir City at the Castro Theatre in San Francisco. The theme is the newspaper, both reviled and admired; journalists were, as newspaperman-turned-screenwriter Ben Hecht put it, "men who knew that the world was round." And both the glory and the dinginess of this dying profession was celebrated in old movies about shabby offices and beefy guys in cheap suits.
Friday (Jan. 23)
Deadline—U.S.A. (1952) at 7:30pm
Humphrey Bogart, under the direction of former journalist Richard Brooks, stars in a story of a tough editor of a newspaper going toes up trying to expose a racketeer.
Scandal Sheet (1952) at 9:30pm
Phil Karlson (The Phenix City Story, The Silencers) directed this adaptation of a Samuel Fuller novel in which a lowballing newspaper editor (Broderick Crawford) kills his ex-wife who comes out of the woodwork. (The plot point here might have been borrowed for Don Draper's backstory in Mad Men.)
Following his nature, like the scorpion in the parable—or else motivated out of suicidal shame—he gets his reporter to pump up the killing as "the Lonely Hearts Murder." Maximum seaminess ensues, with the sweaty Crawford brazening it out all the way to the end of the line—even trying to frame a lovable old former Pulitzer Prize–winning alkie for the crime. Crawford was a paragon among noir actors, if you count his performance in All the King's Men as noir, and you might as well do so. Remember, homely actors are your best entertainment value: like the old professor said, they're not just there because of their looks.
STOP THE PRESSES: A reporter (Alan Ladd) gets mixed up in dame trouble in 'Chicago Deadline,' co-starring June Havoc.
Saturday (Jan. 24)
Blind Spot (1947) at 1:30pm
The actor Chester Morris was best known as backlot detective Boston Blackie (remember Daffy Duck's "Boston Quackie"?). Morris was such a figment of the insomniac hours, you'd swear he was hatched from a square of Welsh Rarebit. Here, Morris plays a low-rent writer accused of a crime that looks awfully like the plot of his last bit of pulp fiction.
Chicago Deadline (1949) at 3pm
Finding the little black book of a demised party girl, reporter Ed Adams (Alan Ladd) of the Chicago Journal goes looking for the men who knew her when. This despite his editor's dismissive advice: "Write 100 words about the pity of it all." Adams' Laura-like fascination with the demised girl (played in flashbacks by Donna Reed) is mitigated by a fun blonde with a taste for the liquor (June Havoc, Gypsy Rose Lee's smarter sister). A bit on the talkative side, but the payoff of this 1949 noir is worth it: director Lewis Allen has the wit to stage the final shootout in a parking garage, so that the diminutive Ladd can stand on a ramp and tower over the movie's plug ugly (underrated thug Berry Kroeger). Only known print; this one is not available on DVD.
Passport Holders Reception for Arlene Dahl, 6–7pm
Wicked as They Come at 7pm
Slightly Scarlet at 9:30pm
Sunday (Jan. 25)
Cry of the Hunted (1953) at 1, 5 and 9:20pm
After The Big Combo, My Name Is Julia Ross and Gun Crazy, Joseph H. Lewis was one of the most reliable names in film noir. He directed Cry of the Hunted, an 80-minute drama for Charles Schnee's MGM B-unit; Barry Sullivan plays an L.A. cop dredging the swamps for a Cajun fugitive (Vittorio Gassman); his partner is the richly voiced but perhaps not on the level William Conrad.
Ace in the Hole (1951) at 2:45 and 7pm
Kirk Douglas bastards it up as a New Mexico newsman investigating the case of a Floyd Collins–like yokel stuck in a cave. (The original sarcastic title was changed to the gentler The Big Carnival, which I guess was supposed to make people think it was Saroyan or something). Jan Sterling is the ace's wife, a woman averse to churches. Billy Wilder directs, sneering at everything good and clean and decent while he does.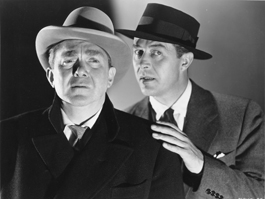 FROM BEYOND: Thomas Mitchell (left) and Ray Milland star in the supernatural noir 'Alias Nick Beal.'
Monday (Jan. 26)
Alias Nick Beal (1949) at 7:30pm
New 35 mm print of a little-seen supernatural noir. Thomas Mitchell (who was in Stagecoach, Only Angels Have Wings, Gone With the Wind and Mr. Smith Goes to Washington all in the same year) stars; he's a politician lured by Satan (Ray Milland) and his Marguerite (Audrey Totter). Music by Franz Waxman.
Night Editor (1946) at 9:30pm
Over an all-night poker game, an editor and a newspaperman recall the sordid story of a cop who cheated on his wife with an upper-crust floozie, witnessed a murder he couldn't report and paid the price. This ultra-low-budget noir encapsulates a whole raft of the genre's tropes in one convenient package. There's the impossibly sweet and good wife who is contrasted with the bad, brassy blonde man killer. ("You're like blood poison to me!" the cop says, before succumbing to yet another passionate embrace.) There's the crisp dialogue ("He dug a hole so deep that the sides caved in on him"). There's the Swedish cop who talks like the Swedish Chef from The Muppets. ("Hold on, yoost a minute.") There's even an eerie foretelling of a famous moment from Basic Instinct. Best of all is the realization that in the old days, big-city newspapers hired entire night crews of editors and reporters who were paid to do nothing but play cards and wait for a fire or a murder to cover. Those were the days.
Tuesday (Jan. 27)
The Harder They Fall
(1956) at 7:30pm
An oversized but useless boxer "with a powder-puff punch and a glass jaw" is sent to the arena by a self-loathing press agent (Humphrey Bogart in his last role) in The Harder They Fall. Playing the luckless Argentine fighter called Toro Moreno is Mike Lane, who took the title role in Frankenstein—1970 (made in 1958, go figure).
Playing the boxer who pummels him: Max Baer, whose bout with the similarly doomed Primo Carnera was the inspiration for this movie. Rod Steiger plays the bent promoter who makes a mint off the massacre.
Johnny Stool Pigeon (1949) at 9:30pm
Dan Duryea is the squealer of the title, his drug-addicted frau is Shelley Winters, Howard Duff is the copper. The action, under William Castle's direction, takes place all over the Pacific Coast.
Click Here to Talk About Movies at Metro's New Blog
Send a letter to the editor about this story.