01.21.09
home | metro silicon valley index | movies | current reviews | film review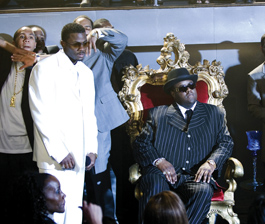 Photograph by Paul Caruso
RAP ROYALTY: Derek Luke (left) and Jamal Woolard channel Sean Combs and Notorious B.I.G.'
Dead Weight
'Notorious': No one could steer him right, but momma tried
By Richard von Busack
WITHOUT GOING all Judge Judy on the big man, it's strange to see a biopic where the main character behaves badly throughout, and yet the audience is still getting a cleaned-up version of the life in question. Supposedly revolutionary music comes along, and yet the cinematic biopic does it the way it's always done it, treating vital music as if it were already nostalgia. The structure of Notorious, the Chris "Notorious B.I.G." Wallace bio, stages the March 1997 shooting first and then plots the entire life flashing before Wallace's eyes. (This method avoids the most complex part of the story, what scriptwriter Cheo Hodari Coker calls the "afterlife" of Wallace: the perhaps bungled, definitely litigious investigation into this unsolved murder.)
The film stars the not bad but ultimately monotonous Jamal "Gravy" Woolard as the hefty rapper. Notorious B.I.G.'s posthumous work shifted more than 10 million units. Dead before 25, Wallace was reputedly becoming more mature, that is, according to his mother, who was consulted so heavily she could have acted as narrator on this film. With an uncertain Caribbean accent and a dragonlike testiness, Angela Bassett plays the mom in question, exactly as if the real life woman were looking over her shoulder. True, Wallace was young when he died, and he was still using his music as a defensive weapon as much as a means of self-expression. Sample lyric from this man on his way to humanism: "The beef between us, we can settle it/ With the chrome and metal shit." The film speculates that more growing up would have gotten Wallace out of the state he was in when he died: still blaming it on society, the father who cut out, the women who tempted him and the media that blew some East Coast/West Coast disagreement out of proportion.
One thing you can say about Notorious is its lack of a judgment call, in the way it follows the progress of a chubby private school kid to millionaire recording artist. The road includes early days selling crack in Brooklyn, an arrest, fathering a child, a stint in prison. After release, there is a fateful meeting with Sean Combs (Derek Luke) when the latter is still an executive at Uptown. Along the way, Wallace makes pals with Tupac Shakur; this friendship ends when Shakur suspects Notorious B.I.G. of setting up the armed robbery that leaves Tupac wounded. The musical numbers keep getting interrupted by the plotting; Naturi Naughton from the group 3LW steals the show re-creating Li'l Kim's refreshingly gynocentric X-rated rap. In the scene of a Sacramento concert, mobbed by West Coast partisans eager to shout him offstage, Woolard breaks through his bottled-in performance. Too bad the whole movie wasn't like that.
The attempt to stay even-handed makes for a noncommittal movie all the way around. We do get the law's side of it all, expressed by a cop, "It used to be brass knuckles and knives, and now it's guns," and so forth, something I think I heard the old soda-shop keeper say word for word in West Side Story. Ditto with Combs' repeated line "We can't change the world until we change ourselves." Well said, but you don't get the feeling that there's any feeling behind it.

NOTORIOUS (R; 100 min.), directed by George Tillman Jr., written by Reggie Rock Bythewood and Cheo Hodari Coker, photographed by Michael Grady and starring Jamal Woolard, plays valleywide.
Click Here to Talk About Movies at Metro's New Blog
Send a letter to the editor about this story.