01.21.09
home | metro silicon valley index | movies | current reviews | film review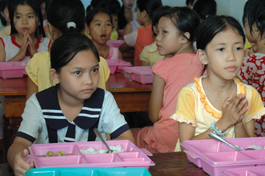 Annam Pictures
THE HARD LIFE: Pham Thi Han (left) takes a meal in an orphanage in 'Owl and the Sparrow.'
Miss Saigon
Three lonely people come together in the one week in Vietnam-set 'Owl and the Sparrow'
By Richard von Busack
CAUGHT IN THAT limbo between mainstream romance and credible indie neorealist film, covered over with that same wobbly, bluesy electric guitar track you've heard in seemingly every film released by IFC, Owl and The Sparrow delivers up some tasty Saigon cityscapes and not much else. The first-time director, Vietnam-born, California-reared Stephane Gauger, worked as a photographer on former Sunnyvale resident Tony Bui's 1999 Sundance hit Three Seasons. Timothy Bui, Tony's brother and the director of Green Dragon, was the executive producer on this, as was Ham Tran of Journey From the Fall. There's much to be said for the caught-on-the-street-corner approach to the fascinating city, with its neon-lit noodle shops, and its roads buzzing with Vespas. Owl and the Sparrow begins in a workshop where matchstick bamboo blinds are made—an especially hard type of hard work that could only be carried out by hand in one of Earth's poorest countries. Thuy (Pham Thi Han), a little orphan, makes a blunder at her Uncle Minh's factory, and this starts the drama. When Minh (Nguyen Hau) scolds her, she ducks out, breaks open her piggy bank and runs away to nearby Saigon.
Two other figures move the plot: the disenchanted Lan (Cat Ly), who has checked in for a five-day stay at a Saigon hotel. She has a sad tryst with a man who doesn't stay overnight. Meanwhile, a melancholy zookeeper's assistant learns that the baby elephant he loves is going to be moved to an Indian zoo. Budget cuts and privatization seem to be the reasons, as well as the possibility that the city fathers are going to bulldoze the zoo to make way for a capital-earning golf course. Zookeeper Hai (The Lu Le) is already heartbroken, because his fiancee left him without explanation. Thuy, taking up life as a street urchin, meets both adults and gets a new job: matchmaker. This script is a familiar piece of work, even Shirley Temple–level, with the cute and wise-beyond-her-years Thuy telling Hai, "Can't you see the way she looks at you?"
Except for the tryst scene, the film is pretty much suitable for all ages, with loads of cute baby elephant scenes. There's even a comedic orangutan, identified as a monkey—seems like a real zookeeper would have spoken up about that mistaken terminology. The cast doesn't ever rise above the level of semipro, except in one scene of the zookeeper and Minh meeting to discuss Thuy's future. This one scene has something of the quality of the unsaid, of watching a misunderstanding between honest men, whereas everything else in the movie is spelled out too plainly. The title suggests a certain menace—sparrows and owls don't get along in real life—but even that's explained as referring to the wise Hai and the literally flighty Lan. Cat Ly, who was quite good in Journey From the Fall, doesn't have as much to work with here. We don't see what it was that made her decide to work for her own living. It ultimately seems as if the film's purpose is to show off Saigon, and it does that—even at the expense of stopping the film to show us groups of children standing around, smiling for the camera, as if posed for a visitor's snapshots.

OWL AND THE SPARROW (PG; 97 min.), directed, written and photographed by Stephane Gauger and starring Cat Ly and Pham Han Thi, opens Jan. 30 at Camera 3 in San Jose. The director and Cat Ly will appear for Q&A events at the theater at the 7:10 and 9:30pm shows on Jan. 23.
Click Here to Talk About Movies at Metro's New Blog
Send a letter to the editor about this story.