01.21.09
home | metro silicon valley index | movies | current reviews | film review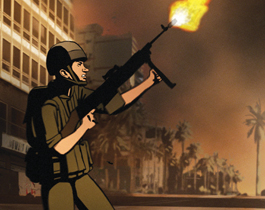 Photo by Ari Folman and David Polonsky
WAR ANDREMEMBERANCE: A soldier relives the fury of combat in 'Waltz With Bashir.'
War Story
Ari Folman's animated 'Waltz With Bashir' recalls the pain of an earlier war in Lebanon
By Richard von Busack
WHEN A SOLDIER is telling a war story, it's important for noncombatant listeners to keep their distance. They must not accept the following equation: I, the soldier who killed, lost as much when I lost my humanity as my victim lost when he lost his life. If there is any fictionalization to the very important animated documentary Waltz With Bashir ... that would be hard to forgive. If director Ari Folman is using amnesia as artistic license or stance, then the final few minutes of his film are openly manipulative. But let's take this celebrated Israeli film at face value. Let's believe that there was no other way Folman could find out what happened where he had served than by tracking down his fellow soldiers and interviewing them. These details of the battles were "not stored on my system" he says; were they not stored on any other system?
Folman uses Flash animation, flatter than Richard Linklater's A Scanner Darkly, but highly effective, handsome and lucid. The flatness is a perfect medium for depicting the faces of veterans, sometimes guarded, sometimes still shocked, sometimes black-humored. Folman's fellow soldiers were the members of the Israeli Defense Force that invaded Lebanon in 1982 in support of that country's new president, the handsome young Bashir Gemayel. Amusingly, one interviewee likens the president's fame to that of David Bowie.
The Israeli vets of this quarter-century-old war are settled now; one is a wealthy falafel-shop franchiser in Holland, another is a martial artist. And they help explain Folman's visions. There are corpses of child-soldiers rising out of the water, as in Gance's J'Accuse. One soldier remembers a dream of solace from a Harryhausenesque sea giantess. A pack of snarling, foaming dogs of war run loose on an Israeli street. That's an easy one to explain, says Folman's friend Boaz: you had to shoot the watchdogs when swooping in on a Palestinian village to arrest suspects. Even the time off from the battles leaves its mark. Folman's jagged memories of lost love are like every soldier's bad three-day pass; the aura of loneliness is almost visible, and augmented by PiL's "This Is Not a Love Song." Folman overlays a Chopin nocturne on a scene of one comrade shooting his way across a highway while under fire by snipers. He even discovers something as small as the reason why the smell of patchouli oil always makes him sick.
Although made for Israeli audiences, Waltzing With Bashir has enough clarity that even Americans can pick up on it. Some might not be able to identify the figure of Defense Minister Ariel Sharon, found personally responsible for what happened in Beirut in mid-September 1982. An Israeli movie can question the IDF's role in a way that wouldn't be dared in the United Sates. As a memoir, Waltz With Bashir is fascinating enough, but there hasn't been another film made that is accessible yet this searching about the Israeli Army. Nor has there been one that so fearlessly emphasizes the irony that the children of Auschwitz survivors lost the true meaning of the phrase "Never again." Our own national amnesia is shared in small part in Israel, here accused of holding the lamp that lit the way for murderers.

WALTZ WITH BASHIR (R; 90 min.), directed and written by Ari Folman, opens Jan. 23 at Camera 7 in San Jose and CinéArts Palo Alto.
Click Here to Talk About Movies at Metro's New Blog
Send a letter to the editor about this story.