01.21.09
home | metro silicon valley index | music & nightlife | band review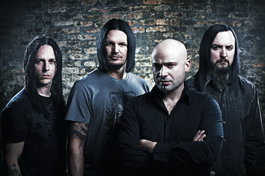 Photograph by Joey Lawrence
DISTURBED BEHAVIOR:
Disturbed has survived the nu-metal tag and plays the San Jose State University Event Center on Tuesday.
Sick and Wrong
Not nu-metal, and you can croon to it: Disturbed reconsidered
By Steve Palopoli
WHO CAN FORGET "Down With the Sickness"? The twisted lyrics about insanity and degradation. The gentle tinkling of the piano keys. The laid-back, smooth vocal stylings. The subtle jazz drum. The big brass-section finale.
OK, so nobody's going to be banging their head to the lounge version by Richard Cheese. But it's more than just a joke—it's possible one can't completely appreciate the underlying pop genius of Disturbed's best-known metal hit until they've heard Cheese croon, "Here it comes, get ready to ... die" in the cheeriest possible voice.
Certainly, Disturbed, which plays the San Jose State Events Center on Tuesday (Jan. 27), understands the significance of having its work genre-blendered—and loves it.
"He really went the distance," says bassist John Moyer of Cheese's cover. "He even does the rant in the middle." Moyer then proceeds to break into the after-dinner version himself: "Oh no, the world is a scary place! Now that you've woken up ... the demon ... in meeeeeeee."
The lounge cover was put to good use in a key scene of Zack Snyder's 2004 remake of Dawn of the Dead. Disturbed also contributed the original version for the closing credits, and it has to be said: there's definitely something about the band's music that doesn't seem out of place among hordes of undead.
"It's often been a joke that every time we do a video it has to be somewhere that's completely creepy," says Moyer.
Wait, so their music isn't supposed to be scary? "It's a little scary," admits Moyer. "We like that."
Clearly, there's much about the band that was lost in translation when it was grouped in with nu-metal acts like Korn and Tool simply out of convenience. Not that the band is complaining; it was Ozzfest that gave Disturbed their break and boosted them into megastardom.
""We've never understood the nu-metal tag with us. Obviously, we came out during that movement, and it helped a lot initially," remembers Moyer.
But Disturbed's popularity has far outlasted the fad. Its newest album, Indestructible, debuted at No. 1, and the title song hit No. 1 on the hard-rock charts. Somewhat of a re-evaluating of the band's music has begun. Disturbed is being discussed in more "classic" terms, if you will, garnering more comparisons to Metallica than to Godsmack. Disturbed will take that.
"Bands like Metallica, Black Sabbath, are bands we admire," Moyer says. "I think they've done a really good job of adapting, going new places without changing their sound. I think we've been able to evolve, too. We're not trying to keep up with anyone but ourselves."
Clearly, Indestructible is an evolution from the early days of the Chicago band, which formed in 1996 around the core of singer David Draiman, guitarist Dan Donegan, original bassist Steve Kmak and drummer Mike Wengren. Moyer replaced Kmak in 2003, by which time Disturbed had sold millions of copies of its 2000 album, The Sickness, off which "Down With the Sickness" was the biggest hit.
The next album, 2002's Believe, and the subsequent Ten Thousand Fists in 2005, both debuted at No. 1. But on Indestructible, Disturbed's music seems sharper, the riffs crisper and the lyrical concepts clearer. In a way, it does harken back to, say, The Black Album—a certain moment when Metallica's intensity collided with their accessibility.
Perhaps skeptics should have known Disturbed had something more to them than the Ozzfest years, just from the fact that they have a mascot. Really now, that's pretty old school. While he's not on the level of Iron Maiden's Eddie, "The Guy," as he's called, he has become something of a metal celebrity. Originally just a face on the back of The Sickness, he has been animated by Todd McFarlane and appears on the cover of Indestructible with a new, Terminator-esque look. Heavy metal monsters need evolution, too.
"With Indestructible, he's sort of a darker character than he's ever been," says Moyer. "The next record, who knows?"
DISTURBED plays with SEVENDUST and SKINDRED at the San Jose State University Event Center on Tuesday (Jan. 27) at 7:30pm. Tickets are $37.50, available at livenation.com.
Send a letter to the editor about this story.