01.21.09
home | metro silicon valley index | music & nightlife | band review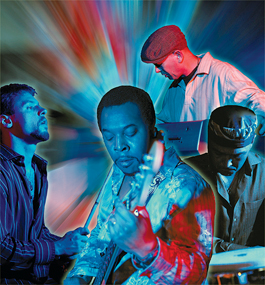 MOVEMENT MEN:
Alex Marks (from left), Andre Ajamu Akinyele, Andrew Foster and Jon O'Bergh dare to hope on their new album.
Gemini Soul
By Andrea Frainier
KNOWN FOR its experimental style, Gemini Soul is much more than an unusually eclectic jazz band. The Bay Area quartet—Andre Ajamu Akinyele (bass), Jon O'Bergh (piano), Andrew Foster (percussion) and Alex Marks (drums)—fuses soul, funk and electronic sounds into its music to create a whole new brand of jazz the band calls "cyber jazz." Gemini Soul's fifth album, Dark Skin Babies: The Movement, adds social commentary to the groove, exploring American history, from slavery to the election of Barack Obama. The two-disc set begins its story with "Dark Skin Babies" and "Reparation," which blends an Afro-Brazilian beat with smooth jazz. The second disc moves into the realm of funk and soul with "Barack & Michelle," "There's No Money in Jazz" and "Pick It Up (America)." Choosing Jan. 20 as the release date of Babies, Gemini Soul bring their musical story full circle, hoping to inspire others through their music the way they believe Barack Obama has inspired an entire nation. Andrea Frainier
GEMINI SOUL performs Saturday (Jan. 24) at 8:30 and 10:30pm at the Hedley Club at Hotel De Anza, 233 W. Santa Clara St., San Jose. Admission is free. (408.286.1000).
Send a letter to the editor about this story.