01.21.09
home | metro silicon valley index | music & nightlife | band review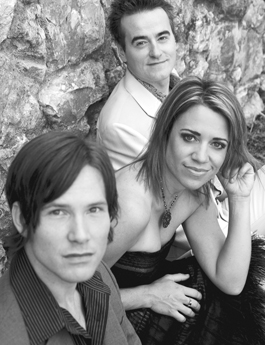 PARADISE WITH YOU:
The Hot Club of Cowtown contributed to the soundtrack for the indie film 'In Search of a Midnight Kiss.'
Heat Wave
By Richard von Busack
THE HOT CLUB OF COWTOWN mixes up a brew of Eastern European and American. As one can tell by the handle, this quartet looks to the influence of Grappelli and Reinhardt's Hot Club of Paris as much as it does to bluegrass and Texas swing. The lineup: Whit Smith on guitar; Elana James (formerly Fremerman) on vocals and violin; Jake Erwin on bass; and new member Damien Llanes on drums. They will be arriving here fresh from a gig in Portland's River City Bluegrass Festival, if they got out of the snows in one piece. The Hot Club has played everywhere from Prairie Home Companion to Azerbaijan. The group just had a song, "Paradise With You," included in the cult indie In Search of a Midnight Kiss. Last summer, Shout Factory released a 20-song retrospective that features originals and some piquant covers: "Fuli Tschai (Bad Girl)" as made famous by Schnuckenack Reinhardt, Django's lesser-known cousin; a Texified, drawling violined version of Hoagy Carmichael's "Stardust"; and "Tchavolo Swing" by the sinti musician Tchavolo Schmitt. The group wraps up this desert-island collection with a live version of "Orange Blossom Special," the "Louie, Louie" of country fiddle.
THE HOT CLUB OF COWTOWN plays Thursday (Jan. 22) at 8pm at the Little Fox, 2209 Broadway, Redwood City. Tickets are $16/$18. (650.369.4119)
Send a letter to the editor about this story.