01.21.09
home | metro silicon valley index | music & nightlife | band review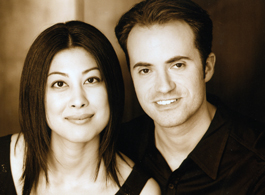 FOUR HANDS ARE BETTER THAN TWO:
Pas de Duo performs Saturday at the Piano Music Festival.
Piano Festival
By Michael S. Gant
A TWO-DAY celebration, Jan. 24–25, of piano music at San Jose State University features a look at the early days of the instrument before the modern 88s were firmly established. On Sunday (Jan. 25 at 7:30pm), faculty from the School of Music will join with Barbara Day Turner, known locally as the main mover at the San Jose Chamber Orchestra, Richard Sogg and others for a waltz through keyboard history. The program ranges from a Bach Concerto for Four Harpsichords to a Beethoven Sonata Opus for Four Hands and Faure's Dolly Suite. The last piece will be performed by Sharon Brook and Gwendolyn Mok on a real antique: an Erard French piano from 1875. The event, sponsored by the Kurosawa Piano Music Foundation, also boasts performances (Saturday at 7:30pm) by two pianistic pairs: Pas de Duo and the Tosheff Piano Duo. They will sample a diverse roster of works by Bizet, Rachmaninoff, Poulenc and Liszt. A wide variety of master classics and lectures will be presented. The most interesting of these looks to be an talk about "Keyboard Evolution" by Erick Siverson (Saturday at 1pm), with examples of period instruments like clavichords and fortepianos.
THE INTERNATIONAL PIANO MUSIC FESTIVAL takes play Jan. 24–25 at San Jose State University. Concert tickets are $15–$25. Call 408.725.7521 or see http://kpmff.org for schedule details.
Send a letter to the editor about this story.