01.21.09
home | metro silicon valley index | the arts | stage | review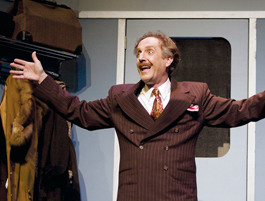 Photograph by Tracy Martin
TRAIN HE RIDES: Dan Hiatt plays traveling theatrical legend Oscar Jaffe in 'Twentieth Century.'
Ego Trip
TheatreWorks' new version of screwball 'Twentieth Century' falls short on megalomania
By Steve Palopoli
OSCAR JAFFE is the kind of character that other characters talk about for 15 minutes before he appears. They don't just talk about him, they yell about him. They run around like maniacs trying to prepare for his arrival, and they bludgeon everyone around with the threat of his very name to get them to fall into line. The actor playing such a character has a lot to live up to. Jaffe is a caricature of a caricature, a 1930s Broadway producer who has bottomed out after flop upon flop and yet is even more frightening to his underlings in defeat than he was at his peak. Confined to a set consisting of train cars, he must appear to be almost too large to be contained by them. He must chew the scenery, shake the foundations, intimidate even the audience. It's no wonder this role was most famously played by three of the biggest hams in acting history: Orson Welles, John Barrymore and Alec Baldwin.
In TheatreWorks' new production of the vintage screwball comedy Twentieth Century, star Dan Hiatt just doesn't quite pull it off. He plays Jaffe more as a Vincent Price type. Slithery, slimy, yes. Brash and supremely arrogant, definitely. But not fearsome. Not larger-than-life. The play was originally written in 1932 by Ben Hecht and Charles MacArthur and updated by Ken Ludwig for the 21st century—actually, more like retrofitted, since it's still set in the 1930s on the Twentieth Century Limited express. The action follows Jaffe's last bid for career resurrection as he tries to win back his former star and lover, Lily Garland, and get himself out of bankruptcy in the process.
As Garland, Rebecca Dines is a study in comic genius, a fireball of physical gags and passive-aggressive outrageousness. Watching Dines is like watching Norma Desmond as imagined by the writers of His Girl Friday. OK, that's a cheat: Hecht was a writer of His Girl Friday, having co-authored the play The Front Page on which Howard Hawks' film was based. Besides Dines' camp-a-thons, the best scenes are the quieter moments between her and Jaffe. These are the moments when Hiatt's approach to the character does pay off. He seems to come clean, but is he trustworthy? There's no way, right? And yet, Hiatt layers on just enough appearance of sincerity to suck us in. There are lots of choice moments as they fondly remember their most treacherous exploits.
This is a beautifully designed production, and the retro-futuro sets and vintage look are all spot-on. The timing of the production is interesting: with its mentions of the Depression and its peek into the indulgent world of show biz, what does Twentieth Century say about life in the 21st century? Unfortunately, not a lot—Hecht wrote masterpieces for both Broadway and Hollywood, but this wasn't one of them. It can be fun, but the subplots, especially one about a religious fanatic loose on the train, grow tedious. (It should be noted, however, that Gerald Hiken, who plays said nut, got some of the biggest applause on opening night.)
TWENTIETH CENTURY plays Tuesday–Wednesday at 7:30pm, Thursday–Friday at 8pm, Saturday at 2 and 8pm and Sunday at 2 and 7pm through Feb. 8 at the Mountain View Center for the Performing Arts, 500 Castro St., Mountain View. Tickets are $23–$61. (650.903.6000)
Send a letter to the editor about this story.