01.21.09
home | metro silicon valley index | the arts | stage | review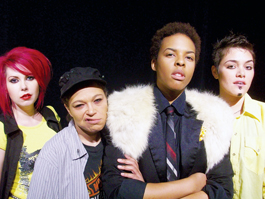 Photograph by Cameron Fabrick
VIDDY WELL: RTE presents 'A Clockwork Orange.'
First Nighters
By Michael S. Gant
THE 2009 theater year kicks off in earnest this week with multiple openings on local boards. One theme that keeps surfacing is the tangled embrace of movies and plays, which keep feeding off each other. Renegade Theatre Experiment, for instance, opens its adaptation of A Clockwork Orange (runs Jan. 23–Feb. 7 at the Historic Hoover Theater in San Jose). The story of some cheerful English hooligans in the near future started life as a novel by Anthony Burgess, but most people know it as Stanley Kubrick's controversial 1971 film starring Malcolm McDowell as Alex, who learns the hard way about reprogramming. The quirky made-up slang ("viddy well," "yarbles," 'horrorshow") should translate easily to the stage, but handling the "ultraviolence" is going to be a challenge. Another, updated take on what drives young people to violence is addressed in City Lights Theater Company's First Person Shooter (see page 42).
While TheatreWorks has been reviving Twentieth Century (see review on page 54), which started more than 70 years ago as a play and was then turned into a movie with John Barrymore and Carole Lombard, Hillbarn Theater in Foster City is drawing on theatergoers' memories of another screwball classic, The Philadelphia Story (runs through Feb. 15). In a more serious vein, the Palo Alto Players invite audiences to an evening of vicious repartee in its production of Who's Afraid of Virginia Woolf?; the 1966 film adaptation won five Oscars, including one for lead Elizabeth Taylor.
Not all companies are star-struck. Elsewhere in the valley, Teatro Visión explores the downside of the health system in The Woman Who Fell From the Sky, about an indigenous woman who spends a dozen years in an institution after being mistakenly labeled a schizophrenic. This true-life tale by Victor Hugó Rascón Banda runs Jan. 22–Feb. 8 at the Mexican Heritage Plaza in San Jose.
Elsewhere on a busy, busy weekend, the Santa Clara Players present a comedy about the running feud between two cooking-show doyens who are forced together in The Kitchen Witches (think Julia Child in a cage match with Martha Stewart), which runs Jan. 23–Feb. 8 at the Triton Museum Hall Pavilion. Tabard Theatre Company starts its adaptation of Antoine de Saint Exupéry's famous children's story The Little Prince (which come to think of it was made into a movie, with Bob Fosse slithering and hissing as the snake); the play runs Jan. 23–Feb. 14 at Theatre on San Pedro Square. For a three-day fundraiser (Jan. 23–24 at 8pm and Jan. 25 at 2pm), Dragon Theatre in Palo Alto turns to Chekhov's The Bear, a light tale about a widow confronted by a landowner come to collect an old debt.
And for those who survive this marathon, San Jose Rep begins previews on Saturday for Jeffrey Hatcher's A Picasso. Set in 1941 in occupied Paris, the play finds the Cubist master and creator of the greatest antiwar painting, Guernica, forced to authenticate one of his paintings so that the Nazis can use it as an example of decadent art. Opening night is Jan. 30. Pear Avenue Theater in Mountain View continues its run of Somerset Maugham's The Circle (through Feb. 1).
Send a letter to the editor about this story.